Incident reveals CIA and Saudi proxy war against Syria not going well
Kurt Nimmo
Infowars.com
October 7, 2013
Al Arabiya, the Saudi owned television network, is reporting that Faeq al-Mir, the leader of the Syrian People's Democratic Party, has been arrested in Syria.
#BreakingNews: #Syria arrests Faeq al-Mir, leader of the Syrian People's Democratic Party

— Al Arabiya English (@AlArabiya_Eng) October 7, 2013
The SDP is a former communist organization, the Syrian Communist Party. In 2006, it merged with the Communist Labor Party, a radical organization that espouses Maoist and Trotskyite rhetoric. The SDP joined the CIA-controlled and Saudi-Qatari funded Syrian National Council in 2011.
Last July, Daniel McAdams underscored deeper and more ominous SNC connections. The SNC is linked to the CIA's Ford Foundation, the Council on Foreign Relations, and the Bilderbergers through Bassma Kodmani, a top-level SNC functionary.
SNC operative Radwan Ziadeh is in bed with the US Institute of Peace, a Pentagon and NSC dominated think tank rife with CIA operatives. In early 2012, Ziadeh signed a letter initiated by the usual neocon suspects demanding Obama intervene militarily in Syria and depose the government of Bashar al-Assad.
Ausama Monajed, a script reader for the Qatari propaganda outfit, al-Jazeera, is also involved with the SNC. In addition to blogging for the "liberal" corporate news portal, AOL-Huffpo, Monajed has rubbed elbows with Bush and his coterie of establishment neocons who have never seen a Middle Eastern country they did not want to invade. Monajed is closely involved with The Democracy Council, a shadowy NGO linked to the Middle East Partnership Initiative, a US State Department operation with connections to the color revolution folks at the CIA spin-off, the National Endowment for Democracy, and the "independent federal government agency" USAID.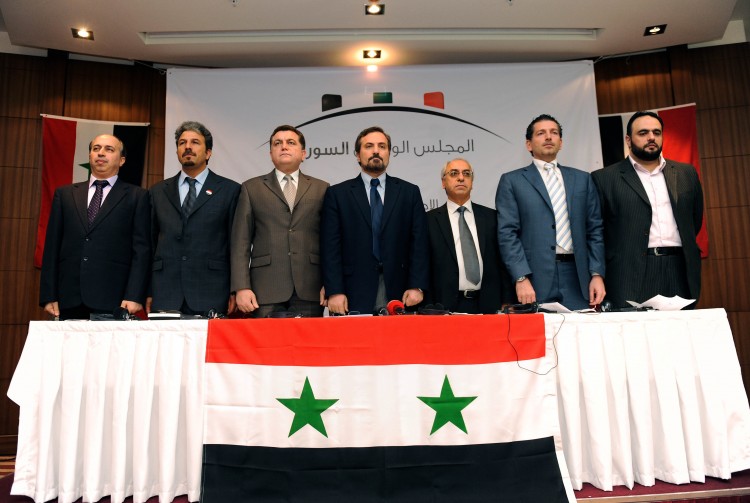 The arrest of Faeq al-Mir is hardly a momentous event, but demonstrates that the effort to undermine al-Assad and the Syrian government and military is not going as planned. Syria is not Libya. Secretary of State John Kerry's comments about Syria's compliance with the chemical weapons disarmament framework imposed on it should be taken with a grain of salt.
The US, its NATO partners and the fossilized Gulf monarchies have not abandoned their effort to reshape Syria and reduce it to an enfeebled client state riven by sectarian violence like Iraq. Due to the SNC's military ineptitude, the West is now relying exclusively on al-Qaeda and its brutal associate, the al-Nusra Front, to wage war against al-Assad while Kerry dances politely with the Russians, who present a formidable obstacle to taking out the Syria government and its well-trained and disciplined military.