Authoritarian left tries to frame Zimmerman supporters
Infowars.com
July 23, 2013
At least one member of a leftist group has been caught red-handed attempting to paint supporters of George Zimmerman as "proud racists," yet another instance of the authoritarian left pulling dirty stunts to discredit conservative protesters with legitimate concerns over the evisceration of Americans' rights.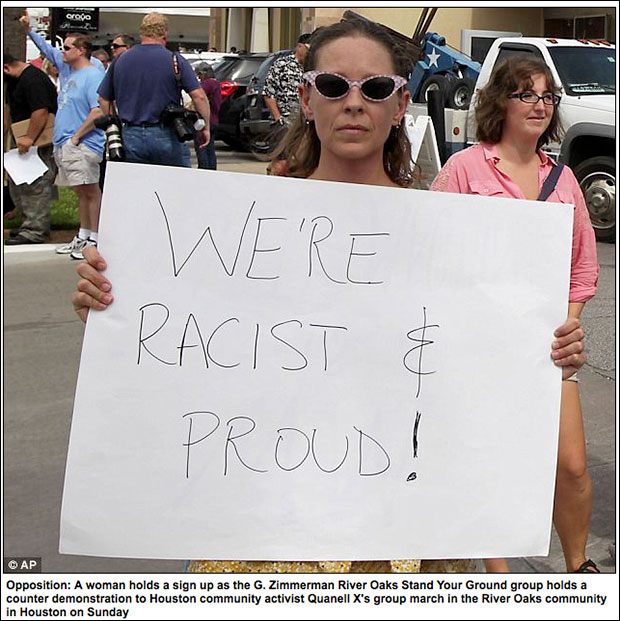 On Sunday, a woman at a Houston pro-Zimmerman rally was photographed holding a handmade sign that read, "We're racist & proud."
The development was seized upon by media outlets such as the Daily Mail and the New York Daily News as indicative of the caliber of protesters attending pro-Zimmerman events.
The Gateway Pundit probed the woman holding the racist sign and exposed her to be a member of a far left environmental group known as the Texas Campaign for the Environment.
"Renee even has her photo linked to a far left environmental website," reported the Pundit.
This is merely the latest in a long history of desperate liberal self-inflicted wounds geared to smear conservatives as fringe right-wing, racist lunatics who hold radical beliefs, despite their legitimate concerns over Constitutional rights and the rule of law.
Kentucky Sen. Rand Paul has also been the target of a leftist smear attempt. In 2010, a democratic operative was caught "dressed up as a slack-jawed 'Rand Paul fan,' wearing a tinfoil hat and holding a sign that echoed/parodied conservative fears about illegal immigration," in addition to posing as a racist, according to Fox Nation. The fake racist was later discovered to be an Obama campaign worker and Democratic liberal activist.
Last year, a Central Connecticut University student also reported she was being targeted by hate notes of a homophobic nature which were being slipped under her door, an event that spurred a campus protest and rally before hidden camera footage revealed she herself was responsible for slipping the notes under her door.
A similar event took place at George Washington University in 2007 when a Jewish college student was filmed by a security camera painting swastikas on her own dorm room door and blaming it on racist elements within the student body. When questioned as to why she painted them, Sarah Marshak claimed it was an attempt to have the campus acknowledge racism.
For a more comprehensive catalog of these types of leftist false flags, read Allie Grasgreen's article "Hate Crime Hoaxes."
Given the plethora of smear attempts aimed at painting conservatives in a negative light, the woman holding the racist sign is undeniably in good company.
UPDATE: The woman in the video was interviewed by Breitbart News and professed she intended the sign's message to be taken sarcastically, a detail that "would be hard to miss for any media who were actually present, or who read the [Houston] Chronicle story carefully enough to note that the woman was with the anti-Zimmerman protest," according to Breitbart.
Here's a transcript of Breitbart's interview:
Breitbart News: What does your sign mean?

Woman: This sign means that there are people here who are racist and apparently think that's OK. I'm not one of them. I'm being sarcastic.

Breitbart News: OK.

Fellow anti-Zimmerman Protestor: Yo. What she said.
As the woman is from Austin, Texas, Infowars intends to seek her out for a follow-up interview.