Adan Salazar
Infowars.com
January 28, 2013
Need another reason to abstain from ever phoning your local PD for assistance? Look no further than New Yorker Jose Abreu's ear.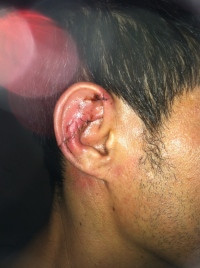 Courtesy Altagracia Nuñez & Associates via
NY Daily News
Two weeks ago, the East Harlem man dialed 911 after his girlfriend reportedly locked him out of his apartment, according to the New York Daily News, but to his dismay the officers who arrived provided no aid and instead sent him to the hospital.
"The cops talked briefly with his girlfriend, then one of the officers — who Abreu said spoke Spanish — approached Abreu and backed him into a corner that was off camera, the video shows," reported the Daily News.
"I was expecting them to help," Abreu recounted to reporters more than a week after the incident took place. "Instead everything got worse."
Next, officers handcuffed Abreu and took him outside – and out of the view of security cameras – where Abreu says one of the officers "swung him around by the elbow, placed both hands on him and hefted him about a foot in the air and shoved him backward, into the lobby's glass window."
Photos provided to the Daily News show Abreu's ear was sliced nearly in half.
As per standard police procedure, the cops accused Abreu of being the aggressor, but Mr. Abreu says that is false and that he was nothing but cooperative.
Despite the officers' claims, no charges were filed against Abreu. A police spokesperson told the Daily News that an investigation into the officers' actions has been launched.
Now Abreu is seeking a $10 million compensation citing emotional and physical distress and a civil rights violation.
NYPD… real nice guys, huh?
The Emergency Election Sale is now live! Get 30% to 60% off our most popular products today!