Mikael Thalen
Infowars.com
July 26, 2013
A Marysville, Washington man who suffers from post traumatic stress disorder due to a violent police encounter was threatened with fines and jail time this week after posting flyers about his missing service dog.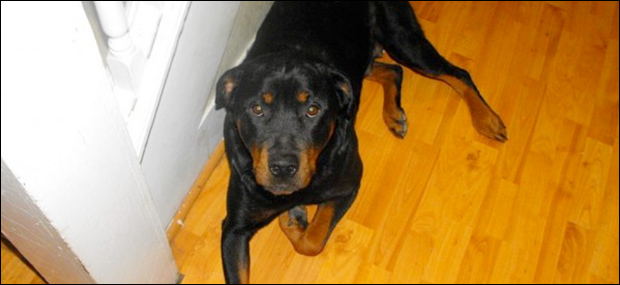 Shawn Slater, 34, says his dog Nanna, a 3-year-old certified medical alert and therapy Rottweiler, helped him manage his anxiety and seizures so well that he was able to get off his prescription medication over two years ago. After being frightened by Fourth of July fireworks, Nanna ran through a hole in the fence, losing her tags in the process.
Slater immediately began putting up flyers around his area after discovering Nanna had gone missing. After posting his flyer on his Facebook page, local residents, eager to help Slater find Nanna, began posting flyers as well.
Soon after Slater received a call about his flyer, but it wasn't the call he had hoped for.
"I was contacted by Marysville Police Department about how it is illegal to put reward posters on city property. They informed me that if I were to post any more or new signs I would be fined $250 per sign and could get a day of jail per as well," said Slater.
The call immediately set Slater's mental health progress back, as his PTSD had been caused by a 1997 near-death police beating in California.
"That's why the threats got my attention quick. I went right into a nervous breakdown," said Slater.
Slater says he believes local residents unknowingly posted flyers on utility poles as he had posted his on legal and lawful property.
Not only was Slater threatened with fines and jail if anyone posted more flyers on city property, but was told not to post flyers anywhere, even in legal areas.
Marysville Police claim the department's senior volunteer gave the "courtesy call" to Slater.
"We are reviewing with our volunteers the precise message we want to provide to our community members to be certain that we accomplish our goal of educating," said Police Commander Robb Lamoureux.
Although Slater says he understands the city's view, some feel the police are more worried about giving out tickets than helping the community.
"Whats this world coming to… what happened to respect, integrity and helping people?" said one local resident.
Slater created the Facebook page "Bringing Nanna Home" to help get the word out to local residents.
Mikael Thalen is the new head writer for Secretsofthefed.com. His articles have been featured on sites such as Natural News, Activist Post and Occupy Monsanto. During his time at Examiner.com, he was frequently ranked the number one political writer.