Infowars
December 15, 2010
Following a decision in the UK to ban protesting, the term "Martial Law UK" has gone viral, reaching #1 on Google's Trends this Wednesday, December 15, 2010. Thanks to our supporters for another successful bombardment of the media cycle in attempt to inject real issues into the debate. Indeed, this issue has gained steam, as the trend not only triggered a multitude of reflexive news coverage, but further has been covered on RawStory.com in an article titled, "After tripling tuitions, UK may ban student marches." The article links to Infowars in the second paragraph:
London's top police officer says he is considering banning student marches in the wake of violent flare-ups at protests opposing a massive increase in university tuition fees.

The move has prompted some observers to declare that Britain may be headed towards "martial law" as police push back against angry youth who find they can no longer afford an education, at a time when jobs openings are rare.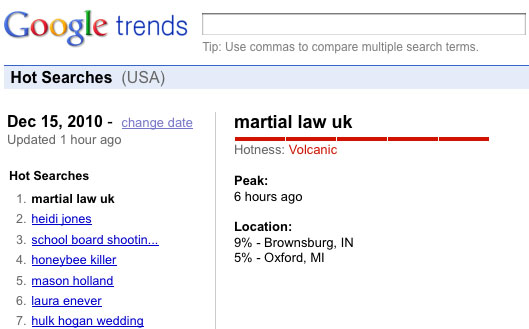 Fresh food that lasts from eFoodsDirect (AD)
{openx:49}