Infowars.com
February 8, 2013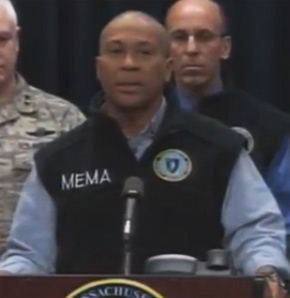 Governor of Massachusetts Deval Patrick declared a state of emergency ahead of the severe blizzard expected to hit the area, banning travel on the roads after 4 pm until further notice.
WGGB in Boston reported:
Massachusetts Gov. Deval Patrick has declared a state of emergency and banned travel on roads as of 4 p.m. as a blizzard that could bring nearly 3 feet of snow to the region began to intensify. Patrick said as the storm gains strength it will bring "extremely dangerous conditions" with bands of snow dropping up to two to three inches per hour at the height of the blizzard, prompting whiteout conditions.
Gov. Patrick wore a Massachusetts Emergency Management Agency (MEMA) sweater during a press conference yesterday, demonstrating a readiness to employ emergency powers. Patrick emphasized that non-essential travel must cease, while exempting public safety and utility workers and other state employees from the ban. According to the AP, "the penalty during a State of Emergency, under the Civil Defense Act, is punishable by up to a $500 fine and/or one year in jail."
Further, Patrick has called upon the National Guard, who've already deployed 1,000 members to enforce the ban and react to blizzard damage, with as many as 5,000 National Guard expected to join their ranks.
If Hurricane Sandy and Hurricane Katrina have been any indication, emergency response to disasters has tended to enhance government power, particularly on the part of FEMA, while all too often leaving individuals unaided and under the thumb of control.
Our 4th of July Super Sale has been extended! Get double Patriot Points and free shipping on the hottest items!