Fox News
December 26, 2012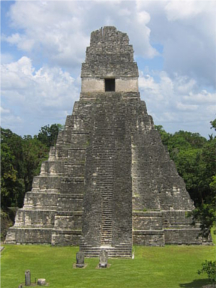 photo by Raymond Ostertag, via
Wikimedia Commons
The so-called Mayan Apocalypse didn't occur, but an ancient temple nearly met its end.
Tourists in Guatemala for "end of the world" parties last week have damaged an ancient stone pyramid at Tikal, noted as the largest archeological site of the ancient Mayan civilization.
"Sadly, many tourists climbed Temple II and caused damaged," said Osvaldo Gomez, a technical adviser at the site to local media, to The New York Daily News. "We are fine with the celebration, but (the tourists) should be more aware because this is a UNESCO World Heritage Site."
While Gomez did not provide specific details on the damage, he indicated it is irreparable. There is a reason, he said, why climbing the stairs is forbidden at the site. The now ruined Temple II is described as one of the site's best known structures and located about 340 miles north of Guatemala City.