Arizona Republican thinks more highly of Democrat Clinton than Tea Party contenders in his own party.
Kurt Nimmo
Infowars.com
October 28, 2013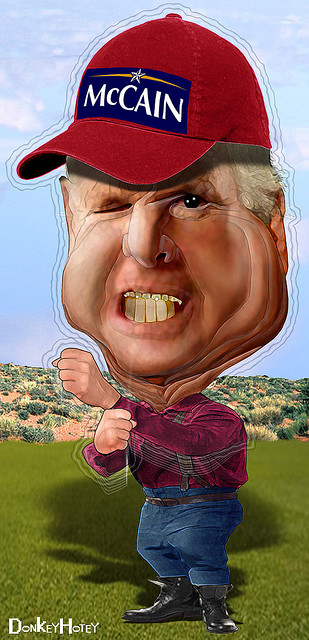 Establishment Republican, Arizona Senator John McCain, has once again demonstrated there is not a dime's worth of difference between Democrat and Republican presidential candidates.
"I don't think there's any doubt that Secretary Clinton would be a very strong candidate," McCain said in Chicago at an event with Democrat Sen. Dick Durbin. "I don't think there's any doubt she has widespread support. Her work as secretary of state, with the exception of this issue of Benghazi — which isn't going away — I think has been outstanding. I think she would be viewed by anyone, Republican or Democrat, as a very formidable candidate for 2016."
McCain also piled kudos on foot-in-the-mouth Joe, vice president Biden. He said Biden is a "wonderful guy" and added that it would be a mistake to "rule Joe Biden out of [2016 presidential] mix."
McCain "Depressed" Over Tea Party Republicans
According to McCain's daughter, Meghan, the Arizona senator is depressed about the political behavior of the so-called Tea Party wing of the Republican Party.
"He is so depressed. He is so downtrodden," she said. "The way he's talking about it, how he's never seen it this bad in his 30-plus years in office."
"We're both frustrated with the idea that only the hyper-conservative wing of the party is going to represent the masses," Meghan McCain told ABC and Yahoo News.
Earlier this month, McCain blamed the Tea Party faction in the House for the supposed government shut down. "We started this on a fool's errand, convincing so many millions of Americans and our supporters that we could defund Obamacare," McCain said.
He said "tea partiers specifically" were wrong for telling "millions of Americans" that Obamacare could be defunded.
"One of the reasons was because we were in the minority, and in democracies, almost always the majority governs and passes legislation."
Millions of Americans oppose Obamacare. In September, an NBC News/Wall Street Journal poll showed that forty-five percent of respondents deemed the Obamacare mandate a bad idea, while 31 percent said it's a good idea.
In January, Gallup discovered that 57 percent of Americans want the law repealed.
Last week McCain said he will run for a sixth term in 2016.
"I'm seriously thinking about maybe giving another opportunity for you to vote for or against me a few years from now," he said during an interview on KFYI-AM in Phoenix. "I'm seriously giving that a lot of thought. I'm certainly getting a lot of encouragement from our business community."