Vanessa Wong
businessweek.com
October 23, 2013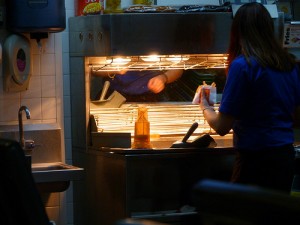 Since McDonald's (MCD) launched the Dollar Menu nationally in 2002, it has grown to about 13 percent of sales–a whole lot of McDoubles and Sausage Biscuits. But the menu is no longer working for the burger chain, so it's rebranding it as the "Dollar Menu & More" with $1 and $2 sandwiches and even some items at $5. It's more like a neighborhood dollar store now: the name refers to the starting price.
The idea is to promote value at additional price tiers. Hey, maybe packaging a $2 sandwich on the menu will make it seem like a better deal. McDonald's CEO Don Thompson explained during an earnings call on Monday that the menu "gives customers a value ladder of sorts, so that based upon their discretionary spending, they have multiple offers at McDonald's." He emphasized that $1 items will remain–it's still critical to retain customers–and that the chain is not abandoning the old Dollar Menu concept but helping it evolve.
The Dollar Menu & More is already being tested in five U.S. markets, Bloomberg News reported last month. All restaurants will offer Dollar Menu & More starting Nov. 4, and advertising for the menu will launch Nov. 11.