When you're the independent proprietor of the most influential media website in the world, you get to set your own rules.
So when leftist, George Soros-funded right-wing watchdog Media Matters accused Drudge Report founder Matt Drudge of colluding with the Russian government to promote Kremlin propaganda, he responded by doing exactly that.
On Wednesday, Drudge linked to a story from Media Matters whining about "How Matt Drudge became the pipeline for Russian propaganda."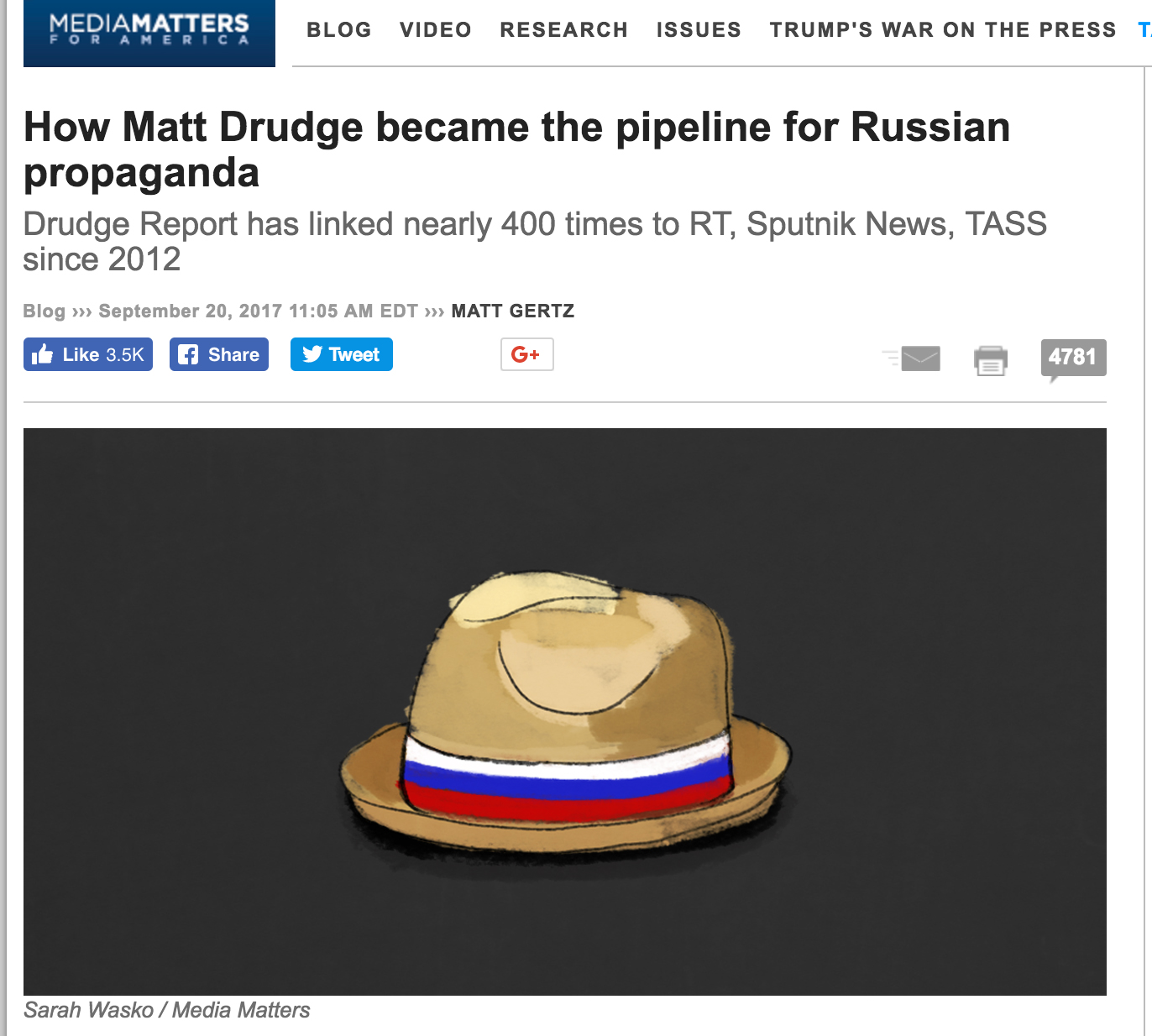 "Drudge Report has linked nearly 400 times to RT, Sputnik News, TASS since 2012," reads a breathless subheadline.
According to Media Matters, Drudge has become entangled in Russia's allegedly massive effort to peddle anti-Democrat propaganda in the US.
"Drudge has for years used his site as a web traffic pipeline for Russian propaganda sites, directing his massive audience to nearly 400 stories from RT.com and fellow Russian-government-run English-language news sites SputnikNews.com and TASS.com since the beginning of 2012, according to a Media Matters review."
Drudge additionally, according to Media Matters, has an "affinity for Russian President Vladimir Putin and his media outlets" which fits into the Kremlin's world domination plans perfectly.
Media Matters reveals they obsessively created a program by which to count each instance in which Drudge had linked to a news story from a state-owned Russian media outlet, (nevermind the content of the stories).
"To measure this effect, Media Matters wrote a program to crawl through Drudge's archives and create an index of all instances in which the website linked to pages that included the URLs 'rt.com,' 'sputniknews.com,' or 'tass.com.'"
The report also goes on to claim that Infowars is a "favorite of the Russian government" because of high-level Russian guests Alex Jones has had on his radio show.
Media Matters' central thesis is that Drudge's vast influence on the media landscape and his 400 links to Russian media in the past six years somehow facilitated Donald Trump's rise to power and Hillary's devastating second presidential defeat.
So what was Matt Drudge's response to the outlandish claims?
He aggregated links directly to Interfax, ITAR-TASS, and Pravda, three major Russian news agencies, as a big middle finger to Media Matters.
Because when you're the independent proprietor of the most influential media website in the world, you get to set your own rules.
Experience the massive benefits of our Ultimate Krill Oil now at 50% off!