AFP
November 23, 2012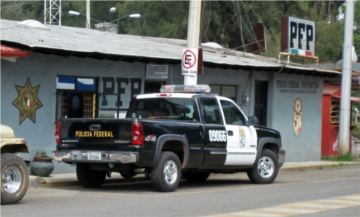 Photo by olivier.brisson (Flickr: Mexican police pickup), via Wikimedia Commons
A Mexican mayor accused officers from his own police force Wednesday of trying to kidnap him in a gang-ordered attack that left eight people dead, including a child and a pregnant woman.
Inde Mayor Ernesto Nunez told reporters that he lodged a complaint against municipal and Durango state police officers, accusing them of involvement in Sunday's kidnapping attempt alongside mafia hitmen.
"We already knew that all municipal police were corrupt, and state police can be corrupt too," he said.
[…] Mexican mayors have become frequent targets of crime groups with at least six killed in 2011, and 15 in 2010.
Also, make sure to get your boost of zinc and pregnenolone today with The Real Red Pill now at 50% off!