AFP
December 18, 2012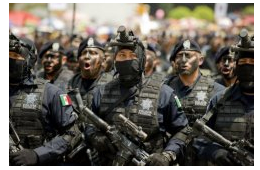 Mexican Federal Police members march along Juarez Avenue in Mexico City on September 16, 2012. (Screen capture taken from
France24.com
.)
Mexican President Enrique Pena Nieto announced the creation of a national police force to crack down on crime and battle the country's powerful drug cartels.
The force — a gendarmerie based on the model of Spain's Guardia Civil — would be 10,000 strong. Currently Mexico has a patchwork of city and state police, along with some national police.
"Mexicans want peace," said the new president, addressing a gathering of cabinet members, the country's state governors, top lawmakers and judges, as well as human rights observers.