Melissa Melton
Infowars.com
November 6, 2012
The time has come for yet another globalist puppet election circus sideshow here in America.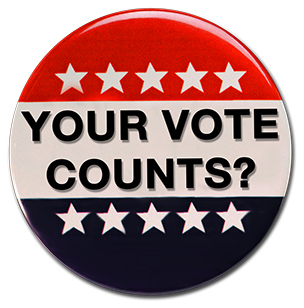 In the wake of Hurricane Sandy, millions are still left without power and basic necessities. Thousands of National Guard troops have been called in to hold society together in New York and New Jersey. A Philadelphia ABC news affiliate even reported Seaside Heights, NJ declared martial law. A nor'easter is set to hit storm-ravaged New England tomorrow.
Today is officially election day. How are all of the displaced storm victims going to vote?
Our government is coming to the rescue, rolling out Department of Defense military trucks to New Jersey polling places without power. National Guard soldiers will be stationed to hand out paper ballots to voters. According to Lieutenant Governor and Secretary of State Kim Guadagno, "A DoD truck with a well-situated National Guardsman and a big sign saying, 'Vote here'" will be waiting for New Jersey voters at polling places that are still standing.
This year's presidential election process has already started off with a bang. Actually, two.
The Orlando Sentinel and Homeland Security reported not one, but two "suspicious devices" — a small cooler containing electrical items and a bag of garbage — were detonated by a bomb squad outside of an early polling station in Central Florida "as a precaution." Voters were forced to wait four hours before they could go back in the building on the last day of early voting in the state.
In Houston, an election monitor from True the Vote (a nonpartisan election integrity group) filed an incident report claiming that NAACP representatives dressed in NAACP caps and shirts had "taken over" one polling station. According to the report, the NAACP members were inside the building (not the 100 feet from the polling station as required by law) handing out bottled water, talking to voters about flying them to Ohio to promote Barack Obama, and hand picking people out of line and moving them to the front. When approached and asked to turn their shirts inside out, the representatives refused.
Additionally, the Department of Justice has announced that nearly 800 observers from its Civil Rights Division will monitor polling places in 23 states. The FBI and federal prosecutors have announced they will be monitoring polling places across Missouri. The U.S. Attorney's Office has also announced they will monitor the election in Chicago and surrounding areas.
Other observers include 2,000 from the umbrella federation for U.S. Unions aka AFL-CIO. The UN is also sending observers to monitor "conservative groups" at polling stations across the country, causing controversy when Texas officials threatened to arrest any international monitors found at state polling places, and the U.S. State Department responded by giving any UN monitors present full diplomatic immunity.
In other news, North Carolina just set a world record for the most 112-year-old Democrats voting in an election at just over 3,000, although over 4,300 112-year-old voters apparently live there. Swing states are reporting issues with electronic voting machines showing the wrong candidate after a vote is cast; voters in six states have claimed that, when they vote for Mitt Romney, their votes show up onscreen as having been cast for Barack Obama instead.
Speaking of our president, threats to riot if Obama loses also hit a crescendo over the weekend, with some Obama supporters even threatening to assassinate Mitt Romney if Obama doesn't win. A National Guard whistleblower recently came forward in a breaking interview with Infowars to announce that military briefings are taking place warning of potential riots and Guard officials are claiming preppers will be targeted as terrorists should civil unrest break out following the election.
Celebrities are getting in on the election action as well. Bill Maher has been busy warning Romney supporters, "Black people know who you are and they will come after you," and Liberal filmmaker Michael Moore teamed up with Moveon.org to produce a not-safe-for-work ad campaign featuring elderly people threatening to "burn this mother****er down" and punch Mitt Romney in his private parts if he ousts Obama.
Rest assured, no matter what goes down, Infowars will be right here bringing you free live streaming Globalist Puppet Election 2012 coverage at Prisonplanet.tv.
The Emergency Election Sale is now live! Get 30% to 60% off our most popular products today!