Mitt Wins Iowa By 8 Votes
Aaron Dykes
Infowars.com
January 4, 2012
1:38 AM CENTRAL – Iowa caucus officials reached a decided "final count" in the Iowa caucuses early Wednesday morning, announcing Mitt Romney as the winner, besting Rick Santorum by only 8 votes.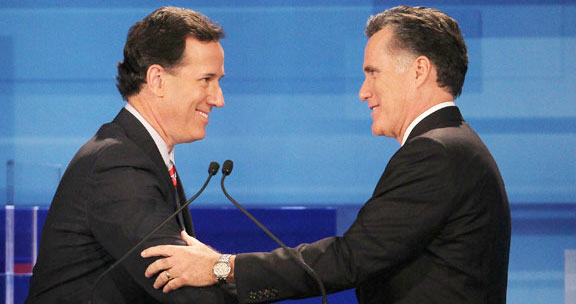 Final tallies came in at 30,015 for Romney, and 30,007 for Santorum.
It was a dramatic count that saw Rick Santorum leading, even by only one vote at one point, and alternately the former governor of Massachusetts, while Congressman Ron Paul scored a close third with a solid showing, despite heavy negative treatment in the media.
However, as the caucus utilizes proportional representation, the top three share the spoils, with 8 delegates each going to Romney and Santorum, and 7 going to Ron Paul. The momentum of the win is largely symbolic as in indicator of the future winner.
Iowan officials stated that 122,255 voters turned out to caucus in what was eerily hailed as the closest race in Iowa history. An odd finish, particularly as GOP officials moved to an undisclosed location to count the votes in secret after threats were issued by the Anonymous hacker collective.
The Iowa caucuses didn't matter last week when Ron Paul was projected to win, but now it signals Romney's shift towards the nomination, as well as the dramatic, sudden rise of Rick Santorum into a near-tie second– a momentum in Iowa so sudden the polls failed to capture it.
You can guarantee that the media will find significance in Iowa now that Santorum and Romney reached a virtual tie, with Mitt narrowly edging ahead by a narrow and conspicuous 8 votes for a win.
Yet, when Mitt Romney was polling in second behind Ron Paul, Iowa Governor Terry Branstad spouted that "People are going to look at who comes in second and who comes in third," going on to say that, ""If [Mitt] Romney comes in a strong second, it definitely helps him going into New Hampshire and the other states." These comments, issued in concert with the others ready to dismiss Iowa and Ron Paul alike, "were taken to mean that Republicans should "ignore" Ron Paul," as Paul Joseph Watson wrote, citing Politico's Jonathan Martin and Alexander Burns.
As we have previously covered, establishment voices sounded in concert to diminish the importance of Iowa as Ron Paul led polls into the vote– going so far as to pre-script the idea that 'Iowa doesn't count if Ron Paul wins,' as Fox News' Chris Wallace put it. "If Ron Paul wins Iowa, we just take it out," Politico's chief columnist Roger Simon bluntly stated last month.
A GOP insider revealed a deal to swing votes away from Ron Paul in Iowa today, raising eyebrows and questions about validity of this oh-so-close caucus vote that leads the 2012 primary vote.
See the video below:
The Emergency Election Sale is now live! Get 30% to 60% off our most popular products today!