Kurt Nimmo
Infowars.com
July 18, 2012

Between April and June, according to statistics released by the Senate Budget Committee, more Americans went on Social Security disability than found jobs.
According to figures released by the committee, a total of 246,000 people enrolled in the Social Security Disability Insurance program while during the same period a mere 225,000 found jobs.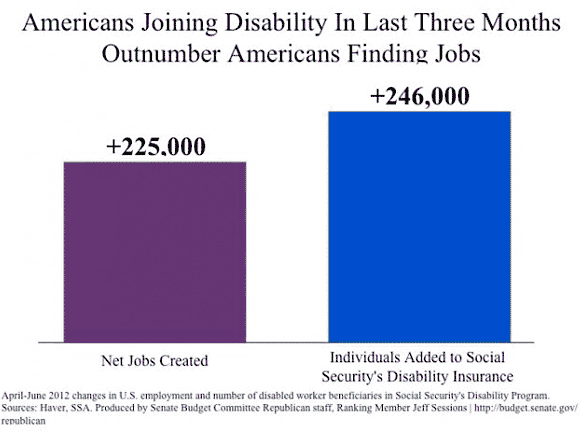 Senator Jeff Sessions, the ranking Republican on the budget panel, said that since 2008 and the onset of the latest economic recession 3.6 million Americans have gone on disability and 1.3 million have lost jobs.
"Amazingly, while fewer Americans are working than at the end of 2008, 3.6 million Americans have been awarded SSDI benefits over the same period. The growing number of people on disability and other federal benefits, combined with weak economic growth, raises serious concerns about the sustainability of the American economy," said the Alabama senator.
"It is clear there is a great need to distinguish between proper and improper disability claims, and to better incentivize and find acceptable work for those who are able. Today only 1 percent of Social Security disability recipients ever return to work. The administration of this program must be improved to avoid sinking our country deeper into debt, to ensure the program remains viable for those with disabilities, and to protect Social Security itself."
On July 11, the U.S. Bureau of Labor Statistics reported a seasonally adjusted unemployment rate of 8.2 percent.
However, according to John Williams' "Shadow Government Statistics" website, the real unemployment rate is closer to 22 percent. Williams' methodology for determining the real unemployment rate includes "long-term discouraged workers" who are removed from the category of those considered "unemployed," a bookkeeping trick instituted by the Clinton administration in 1994 to make unemployment appear lower than it actually is.
In February of 2009, Obama created his Council on Jobs and Competitiveness. Formerly titled the Economic Recovery Advisory Board, the council was chaired by former Federal Reserve chairman Paul Volcker. Members of the panel are involved in outsourcing jobs. The board has not met in over six months due to bipartisan issues and a reluctance by members to meet during Obama's re-election campaign.
During a recent campaign stop, Obama criticized small business despite the fact they are the engine of job creation in the United States. According to data released by Automatic Data Processing, Inc., of the 216,000 new jobs created in February of this year, 108,000 or more than half were created by businesses with 49 or fewer employees. The 88,000 new jobs created by companies with 50-499 employees brings the total of new jobs from small businesses for February to 90 percent, The Daily Times notes.
The Reopen America Back to School Special is now live! Save up to 60% on our most popular items!