Andrew Seidman
Inquirer Trenton Bureau
May 13, 2014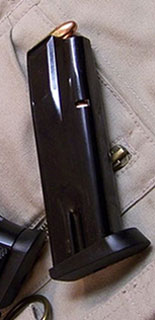 The New Jersey Senate voted Monday to pass a bill that would ban high-capacity magazines, despite Republican opposition and reservations voiced by some Democrats.
The bill, which would reduce maximum ammunition capacity from 15 rounds to 10, now heads to the Assembly, which passed an earlier version but now must consider amendments by the Senate.
Proponents said the legislation was in response to the December 2012 massacre at a Newtown, Conn., elementary school, in which the assailant used guns equipped with high-capacity magazines to kill children and educators. Parents of some of those children traveled to Trenton this year in support of the bill.
"Today we're taking another step to fulfill a promise that many of us here made to the parents of the children of Sandy Hook Elementary School in Connecticut who suffered losses beyond comprehension," Senate Majority Leader Loretta Weinberg (D., Bergen), one of the bill's sponsors, said on the Senate floor Monday.