Kurt Nimmo
Infowars.com
November 21, 2011

Now that Mayor Bloomberg and the New York cops have uprooted OWS, it's time for some real action – tracking down would-be lone wolf terrorist synthesizers.
Police have arrested Jose Pimentel, a 27-year old Dominican Republic native and Islamic blogger who is said to have plotted to attack government buildings, police patrol cars, the post office and returning members of the military with a "really powerful" pipe bomb. Authorities did not explain how Pimentel planned to attack numerous targets with a single bomb.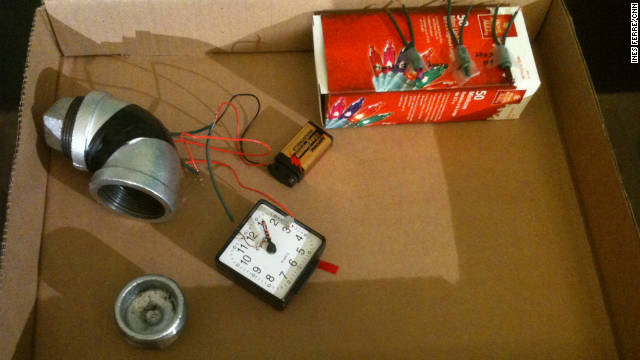 The lone wolf bomb authorities say was designed to take out government buildings, the post office, police cars, and returning vets.
"He represents exactly the kind of threat the FBI Robert Mueller director has warned about," Bloomberg said during a news conference on Sunday.
In 2010, Adam Pearlman aka Adam Yahiye Gadahn called for al-Qaeda supporters to attack inside the United States. Prior to the tenth anniversary of the September 11 attacks, Ayman al-Zawahiri told followers to target the United States. In May, the DHS said the group would attempt to create a Fukushimi-style nuclear failure in response to the unsubstantiated assassination of Osama bin Laden.
Earlier this year, Obama told Wolf Blitzer and CNN that we have to remain vigilant against lone wolf terrorists.
Pimentel is charged with providing support to terrorism, conspiracy and weapons offenses.
New York Police Department Commissioner Raymond Kelly said detectives had followed Pimentel around since 2009. Kelly said Pimental wanted to travel to Yemen and train as a terrorist. He supposedly had an affinity for the Pentagon dinner guest, Anwar al-Awlaki, who was reported killed in Yemen back in September.
He was apparently so enamored with al-Qaeda and Saddam he planned to change his name to "Osama Hussein," according to Commissioner Kelly.
It is said Pimentel learned how to make a pipe bomb after reading an article entitled "How to make a bomb in the kitchen of your Mom" in Inspire, al-Qaeda's English-language online propaganda, recruiting and training magazine.
In August it was reported that the FBI arranges nearly all the domestic terror plots uncovered in the United States.
"By providing weaponry, funds and a plan, FBI-directed agents will encourage otherwise-unwilling participants to plot out terrorist attacks, only to bust them before any events fully materialize," RT reported following a report published by Mother Jones.