Kurt Nimmo
Infowars Nightly News
October 17, 2011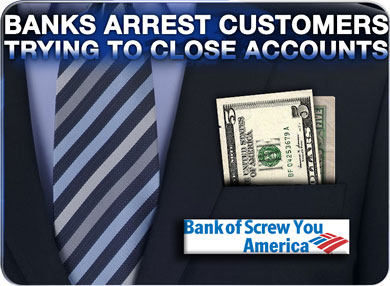 On the Monday edition of the Infowars Nightly News, Alex talks about the conspiracy between Citibank and New York cops to corral and then arrest protesters attempting to close their accounts and make a political statement about the bank.
Alex gets into the underhanded Fed Reserve attempt to censor an Infowars video exposing the bankster operation for what it is – a privately held cartel masquerading as a federal agency. The Fed has demanded that YouTube remove the video from its popular website.
Additional items covered on the show this evening include: Obama's move to bomb Iran under the pretext of a phony terror plot, presidential candidate Mitt Romney taking advice from Obama's creepy eugenicist science czar, and Alex's report from the border on violations of national sovereignty by the Mexican military and the escalating death toll along the border as the bankers and the Mexican government wrestle with drug gangs for dominance.
Host Aaron Dykes interviews Jeffrey Smith about a Bertram Verhaag documentary, Scientists Under Attack: Genetic Engineering in the Magnetic Field of Money, about GMOs and the need for the independence of science.
Infowars Nightly News runs every weekday evening at 7 PM CST and is available for Prison Planet.tv subscribers.
Join the resistance today and subscribe by visiting the Prison Planet.tv sign-up page.
The Reopen America Back to School Special is now live! Save up to 60% on our most popular items!