Adan Salazar
Infowars.com
November 29, 2012
With all the police horror stories we are constantly deluged with, a story about a good cop is sometimes necessary to remind everyone that there are still police out there who don't take part in the crazed, lunatic brute-cop goon-squad mentality, and who instead stand up for humanity, freedom and what is right.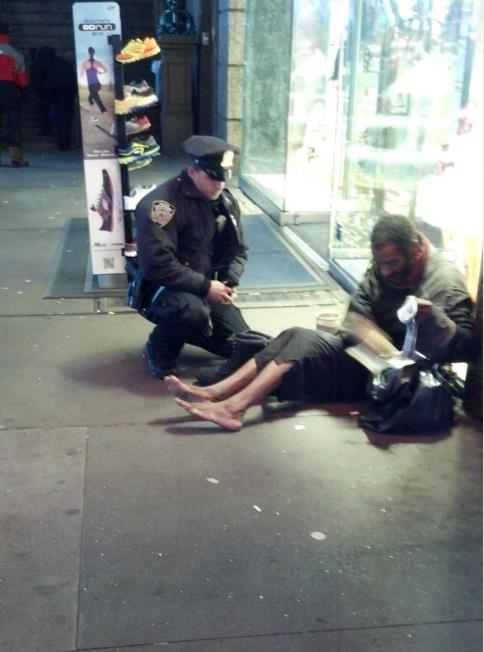 Generous act of kindness captured by Jennifer Foster (via NYPD Facebook)
Enter Jennifer Foster and her cellphone camera. According to a post that appeared on the NYPD's Facebook page, she and her husband visited New York's Time Square earlier this month and stumbled upon an interesting photo opportunity where a selfless act of kindness was being perpetrated by none other than one of "New York's finest."
"Right when I was about to approach, one of your officers came up behind him. The officer said, 'I have these size 12 boots for you, they are all-weather. Let's put them on and take care of you.' The officer squatted down on the ground and proceeded to put socks and the new boots on this man. The officer expected NOTHING in return and did not know I was watching," the post on the NYPD's Facebook page says.
Since then, the tale of the altruistic cop's act has garnered massive popularity, and been a major driver of traffic to the department's Facebook page "boosting subscribers to the department's 5-month-old page by 7,000, to 95,000," the Huffington Post reports.
As Foster's post explains, she's also in law enforcement, but has never witnessed such a courageous, charitable act: "I have been in law enforcement for 17 years. I was never so impressed in my life."
At the time the photo was posted, NYPD had no idea who the officer was, but it began attracting massive hits almost immediately, unexpectedly catapulting officer Larry DePrimo into Internet stardom, albeit unbeknownst to him.
The post went up Tuesday night, and "By Wednesday evening, the post had been viewed 1.6 million times, and had attracted nearly 275,000 "likes" and more than 16,000 comments," reports the New York Times. Total "likes" as of writing this stand at 391,108.
"It was freezing out and you could see the blisters on the man's feet," DePrimo recalled during an interview. "I had two pairs of socks and I was still cold."
According to the Huffington Post, it was then the officer decided to go to a store and pick up some boots for the man: "The officer walked to a Skechers store on 42nd Street and shelled out $75 for insulated winter boots and thermal socks. He returned to the man, knelt down and put the footwear on him."
Deprimo says the man "smiled from ear to ear," adding, "It was like you gave him a million dollars." The officer also told Newsday, "I didn't think anything of it."
Earlier today, we reported on another surprising good cop story in which an Albany County Deputy Sherriff upheld his oath to protect the rights laid out in the Constitution.
"Deputy Sheriff Stan Lenic, the cop who stood up for the First Amendment by refusing to impede the free speech rights of activists at Albany International Airport, has become an Internet icon, with messages of support flooding in to the Albany County Sheriff's Office and Lenic being honored with a commendation," Paul Watson wrote.
The video, which has since gone viral, has invited overwhelming support from the online community, some of who expressed their gratitude in Youtube comments. "Finally a cop that does his job properly. Makes a change from all of the bad cop films we've seen lately. Hats off to the man," one person said. "This Sheriff is an absolute paragon for justice," added another.
Undoubtedly, these officers are two sterling examples of nobility after which all LEOs should model their behavior.
Jennifer Foster's final words to the NYPD serve as a reminder to other law enforcement officers that their main purpose is to help the people: "It is important, I think, for all of us to remember the real reason we are in this line of work. The reminder this officer gave to our profession in his presentation of human kindness has not been lost on myself or any of the Arizona law enforcement officials with whom this story has been shared."
The Emergency Election Sale is now live! Get 30% to 60% off our most popular products today!