Philip Sherwell
The Telegraph
October 27, 2013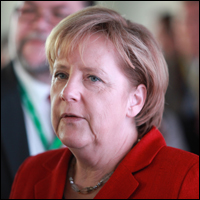 President Barack Obama was dragged into the trans-Atlantic spying row after it was claimed he personally authorized the monitoring of Angela Merkel's phone three years ago.
The president allegedly allowed US intelligence to listen to calls from the German Chancellor's mobile phone after he was briefed on the operation by Keith Alexander, director of the National Security Agency (NSA), in 2010.
The latest claim, reported in the German newspaper Bild am Sonntag, followed reports in Der Spiegel that the surveillance of Mrs Merkel's phone began as long ago as 2002, when she was still the opposition leader, three years before being elected Chancellor. That monitoring only ended in the weeks before Mr Obama visited Berlin in June this year, the magazine added.