Reuters
March 20, 2014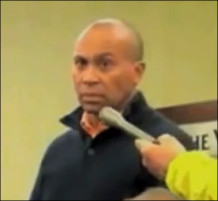 President Barack Obama said on Wednesday Massachusetts Governor Deval Patrick – a rising Democratic star – would make "a great president or vice president" but will likely take a break when his eighth and final year as state chief executive ends.
"Deval's done a great job and I think (it) signals that he could be very successful at the federal level as well," Obama told Boston NBC station New England Cable News.
"I suspect knowing his wife as I do, they're going to be taking a little bit of time off," Obama added.
The president said Patrick, who will be 58 this year, has "enormous talent" and would be wise not to rule out public service in the future.
RELATED: Mass. Gov. Deval Patrick Declares Boston Bombing Video Shows 'clear involvement,' Admits He Never Viewed Video
Also, make sure to get your boost of zinc and pregnenolone today with The Real Red Pill now at 50% off!