Ben Goad
The Hill
January 17, 2014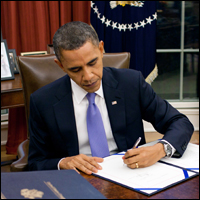 President Obama is considering using his executive authority to raise the minimum wage for federal contractors, he told Senate Democrats during a closed meeting at the White House.
Lawmakers present at the Wednesday night session said Thursday that Obama did not bring up the matter himself, but appeared receptive to the idea when questioned on the topic.
"The issue was raised," Sen. Barbra Boxer (D-Calif.) said Thursday. "He said he was looking at it, as he looks at everything else."
Pick up the next evolution of activated nascent iodine today with Survival Shield X-3 now at 60% off!