Dylan Byers
Politico
December 12, 2012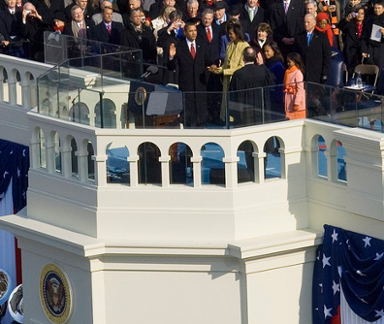 The Presidential Inaugural Committee has announced that President Obama's official swearing-in will be open to the press, allaying the concerns of the White House press corps that had feared restricted access.
"[T]here will be media access to the official swearing in on Sunday," a PIC representative told POLITICO. "We are still working out additional details and logistics and expect to be able to share more about media coverage plans for that ceremony and other Inaugural events soon."
The White House press corps had feared they would be restricted from Obama's official swearing-in, which takes place in a small, private ceremony on years that January 20 falls on a Sunday. Inaugural committee officials had privately indicated to reporters that the event could be closed to reporters and cameras, with an official photograph supplied to press by White House photographer Pete Souza, sources told POLITICO. A subsequent email from the PIC referring to the Jan. 20 swearing-in as a "private" event rekindled that concern.