Infowars.com
February 25, 2013

Once again demonstrating that the hysterical war on the Second Amendment knows no bounds, a pastor in St. Louis will offer to buyback toy guns later this year.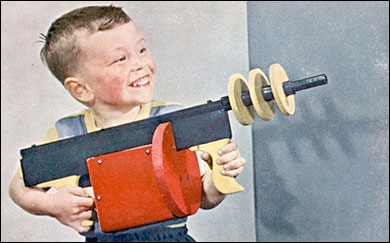 "My wife and I feel that we need to do everything we can to not allow our kids to get exposed to this too early. They're going to get exposed to it but we can protect them early on so they don't get a distorted view of what those can do to the human body," Pastor Rodney Francis of the Washington Tabernacle Baptist Church told KMOX 1120.
"We want to engage the culture of violence and one of the strategies that we thought we might be able to use is to educate parents about the danger of allowing kids to continue this access to toy guns and playing with toy guns."
Francis is not alone in his belief that toy guns represent a threat to society. Infowars.com has reported on a number of instances where children have suffered dire consequences for taking toy guns to school.
A ten year old Virginia boy who was arrested earlier this month for taking a plastic toy gun to school is facing a potentially permanent criminal record over the incident.
In South Carolina, a kindergartner was expelled from school after she brought a small transparent plastic toy gun to school for a show and tell.
In Massachusetts, a five-year-old boy was threatened with suspension by school officials after he built a small toy gun out of lego blocks and started to play-shoot his classmates.
Police with assault rifles and helicopters invaded a Bronx school last month in response to the sighting of a Nerf gun. Panicked parents rushed to the two schools on Fulton Avenue and East 174th Street today after heavily armed police were called to respond to reports of a gun on campus. The alarm was caused by a campus aide overhearing a student say "something about a gun."
A South Philadelphia elementary student was searched in front of classmates and threatened with arrest after she mistakenly brought a "paper gun" to school, we reported on January 23. When a school administrator found the piece of paper, Melody Valentin was verbally chastised in front of the whole class and, according to her mother, even threatened with arrest.
In Pennsylvania, possession of a Hello Kitty bubble gun resulted in the suspension of a five year old girl. Hysterical school officials characterized the incident as a terrorist threat and said the bubble gun represented a serious threat to other students.
Students can be suspended for merely showing an image of a gun, as Daniel McClaine Jr., a freshman at Poston Butte High School in Arizona, discovered after he put a screen saver on his computer showing an AK-47.
Because toy guns are dangerous in the hands of kids and adults, the ATF confiscated a shipment of Airsoft BB guns destined for a Washington state retail store. Special Agent Kelvin Crenshaw said the toys could be easily retro-fitted into dangerous weapons, KOIN Local 6 reported in February, 2010.
Over-the-top reactions to children with toy guns – and even fingers held up like a gun – are now the customary reaction of public employees and various state bureaucrats in charge of indoctrinating America's children. It is all part of an ongoing and intensifying program to brainwash children and make sure they do not fall victim to America's gun culture which, as Rep. Charlie Rangel has stated, must be overcome if citizens are to be disarmed.
Our 4th of July Super Sale has been extended! Get double Patriot Points and free shipping on the hottest items!