Elisabeth Bumiller
NY Times
December 11, 2012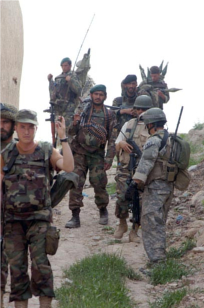 As President Obama considers how quickly to withdraw the remaining 68,000 American troops in Afghanistan and turn over the war to Afghan security forces, a bleak new Pentagon report has found that only one of the Afghan National Army's 23 brigades is able to operate independently without air or other military support from the United States and NATO partners.
The report, released Monday, also found that violence in Afghanistan is higher than it was before the surge of American forces into the country two years ago, although it is down from a high in the summer of 2010.
The assessment found that the Taliban remain resilient, that widespread corruption continues to weaken the central Afghan government and that Pakistan persists in providing critical support to the insurgency. Insider attacks by Afghan security forces on their NATO coalition partners, while still small, are up significantly: there have been 37 so far in 2012, compared with 2 in 2007.