CNN host lays out plan to disarm American citizens.
Melissa Melton
Infowars.com
December 14, 2012

Michael Moore isn't the only media figurehead openly calling for stricter gun control on the social media site Twitter today.
Not only does Piers Morgan apparently want to straight up take away people's guns, but he has a multi-step plan for exactly how America should be disarmed.
The host of CNN's Piers Morgan Tonight went on an anti-gun Tweet rant following the mass shooting in a Connecticut school that left 28 people, including 20 children, dead earlier this morning.
"Only way forward for America is a national gun policy, same (much tougher) laws for everyone. No assault weapons for civilians, period," Morgan wrote, before following it up by laying out a plan to disarm the American public. Morgan called for a "minimum 3 references" and "detailed vetting over 6-8 weeks." He also claimed that no one under 25 should have a gun, and neither should "ANYONE with ANY mental health history whatsoever." Morgan finishes by stating that "No American needs more than one firearm at home to protect themselves under 2nd Amendment."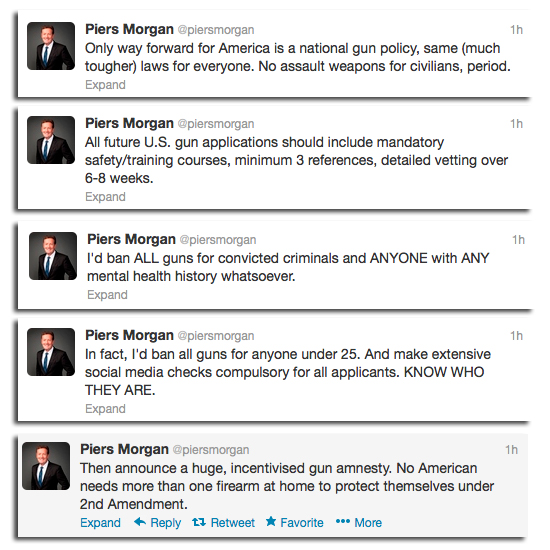 Morgan's plan, while seemingly comprehensive, leaves many questions. If America were to "ban guns on anyone under 25," then how would we have a military? Would we have to raise the age limit on joining the police force or becoming a soldier? Who is the person that Morgan suggests we get a reference from? Why would that make any difference? What are the guidelines for his "extensive social media checks"? What exactly constitutes a "mental health history"?
As Paul Joseph Watson reported, "Morgan is seemingly ignorant of the fact that the decision to ban handguns in Britain did nothing to lower gun crime. In the six years following the ban, gun crime more than doubled." This isn't the first fatal shooting Morgan has politicized to declare war on the 2nd Amendment; he previously cheered Bob Costas' anti-gun sentiments following a professional football player's murder-suicide and seized on the Aurora, Colorado theater shooting to fill his Twitter profile with pro-gun control mantras.
This isn't the first time Morgan has advocated the trampling of people's rights, either; evidence surfaced in 2009 that he was involved in a UK phone hacking scandal, publishing stories that were obtained through tapping phone lines when he worked for Rupert Murdoch in the 1990s.
Again, Connecticut is ranked 5th in the nation on the Brady Campaign scale for gun laws, schools are already gun-free zones, and laws made to target gun crimes do nothing to stop criminals from getting guns and perpetrating those crimes if they so choose. The man who walked into a Connecticut elementary school and opened fire today certainly wasn't concerned with whether or not he was following any laws.
When America declared its independence, the 2nd Amendment was instituted because British rule and its loyalists were trying to disarm patriot militias before the American revolution. That Amendment was instituted to keep this country free from tyrannical governments.
Is this irony lost on Morgan?
Alex Jones gave his own Twitter response to Morgan's unconstitutional gun grabbing plan: