Kurt Nimmo
Infowars.com
May 9, 2011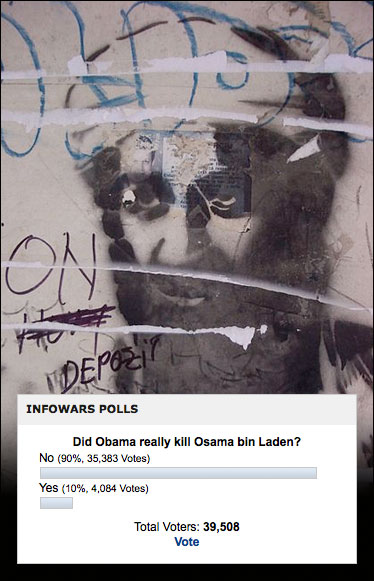 Our non-scientific poll on the unverified assassination of Osama bin Laden received nearly 40,000 responses. 90 percent of respondents do not believe the U.S. killed the Saudi in the Pakistani city of Abbottabad, about 60 kilometers north of Islamabad.
Only 10 percent believe the official story that 24 U.S. Navy SEALs from the Naval Special Warfare Development Group under the command of the the Joint Special Operations Command and the CIA killed Bin Laden.
The official story soon came under suspicion primarily due to the fact the government changed the story a number of times.
Following the reported raid, John Brennan, the White House counterterrorism chief, said that a woman killed was one of bin Laden's five wives and was being used as a human shield at the time.
The following day, however, White House Press Secretary, Jay Carney, said that bin Laden's wife had rushed the invading SEALSs and was shot in the leg but did not receive a life threatening injury.
Instead of retaining Osama bin Laden's body for DNA testing, it was transported to the aircraft carrier USS Carl Vinson and buried at sea, thus adding more suspicion to the alleged operation.
The government claimed Osama was hastily dispatched at sea in accordance with Muslim burial rites. Islamic scholars, however, note that sea burial in fact violates Sharia law.
Details of the raid itself changed no less than three times. On Monday, the New York Times published a story stating that the raid consisted of two helicopters, two backups, 79 commandos and a dog.
On Tuesday, the Associated Press posted a story that offered a different account of the raid. "Obama tapped two dozen members of the Navy's elite SEAL Team Six to carry out a raid with surgical accuracy," it claims. Brennan is cited as the source for this story.
Also on Tuesday, it was reported by the Washington Post that the raid had been carried out with two Black Hawks and a third helicopter only for emergency support.
The Reopen America Back to School Special is now live! Earn double Patriot Points on our hottest items!