Sens. Ted Cruz (R-Texas) and Josh Hawley (R-Mo.) called on Twitter to answer for their actions after the social media company prevented users from sharing a report by the New York Post regarding Democrat presidential candidate Joe Biden's Ukraine controversy.
The two senators accused Twitter of election meddling Wednesday after the company moved to censor the story, which detailed an email from a Burisma board member to Hunter Biden thanking him for introducing him to Joe Biden, who had previously claimed he knew nothing of his son's overseas business dealings.
"Twitter has apparently decided to preemptively censor this report," Sen. Cruz wrote in his letter. "Twitter is not only prohibiting users from sharing this story on their own accounts, it is prohibiting the New York Post itself from posting its own content."
Cruz went on to say the tech giant's move to censor the report constituted election meddling and demanded Twitter CEO Jack Dorsey respond to a list of questions from the Subcommittee on The Constitution.
---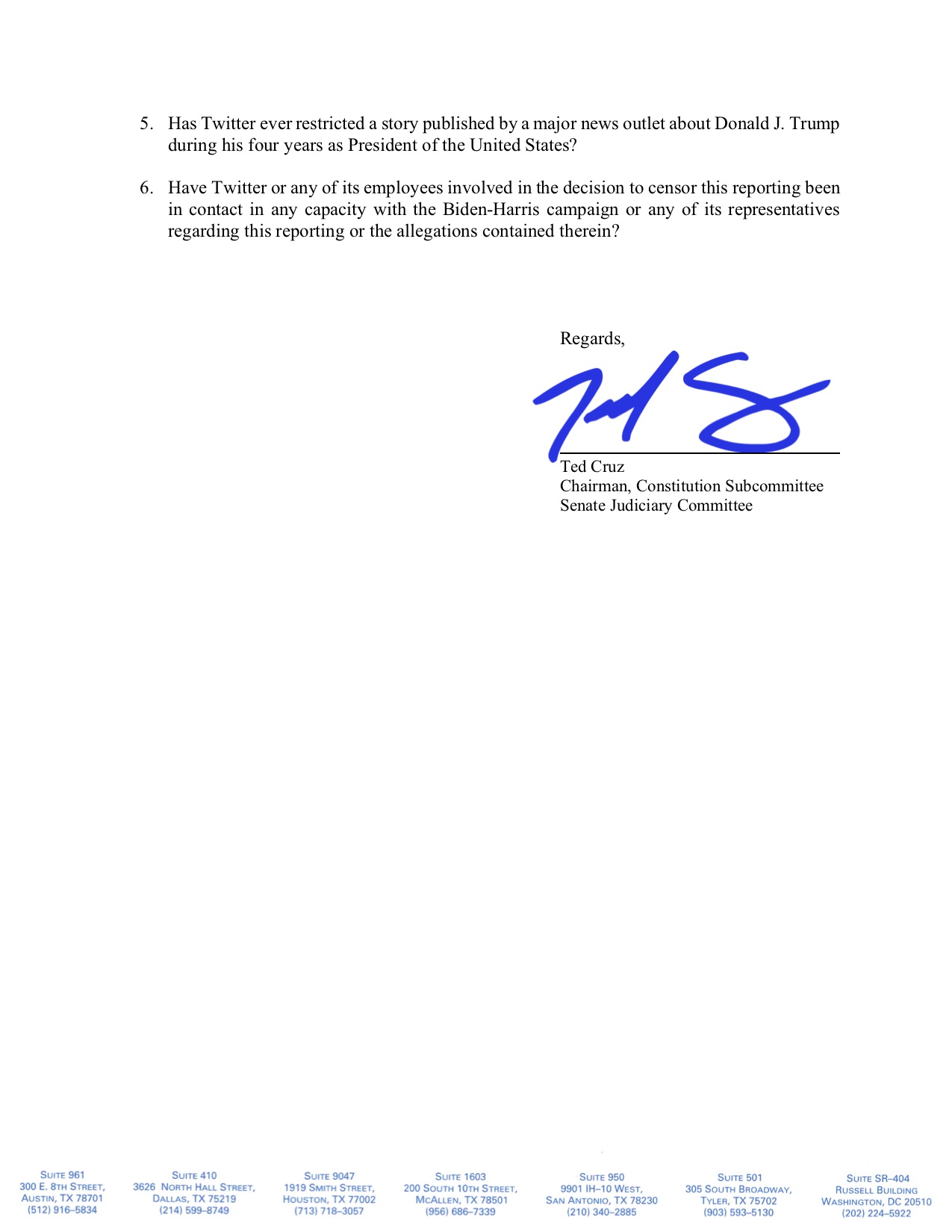 "Twitter well-knows its incredible ability to influence public dialogue by promoting some stories while suppressing others, and it has plainly decided that the American people should not be seeing or discussing this particular story, which could significantly influence voters' views of candidate Biden," the senator from Texas wrote.
"Accordingly, this can only be seen as an obvious and transparent attempt by Twitter to influence the upcoming Presidential election."
Sen. Hawley called out Twitter's use of its "Hacked Materials Policy" as the reason for blocking the story.
"This statement raises questions about the applicability of your policy, especially because such a pre-emptive removal of a news story on such grounds – and the additional scrutiny you have applied – appears to be an unusual intervention that is not universally applied to all content."
Sen. Hawley called on Dorsey to answer several questions "so that your users can feel confident that you are not seeking to influence the outcome of the presidential election with your content removal decisions."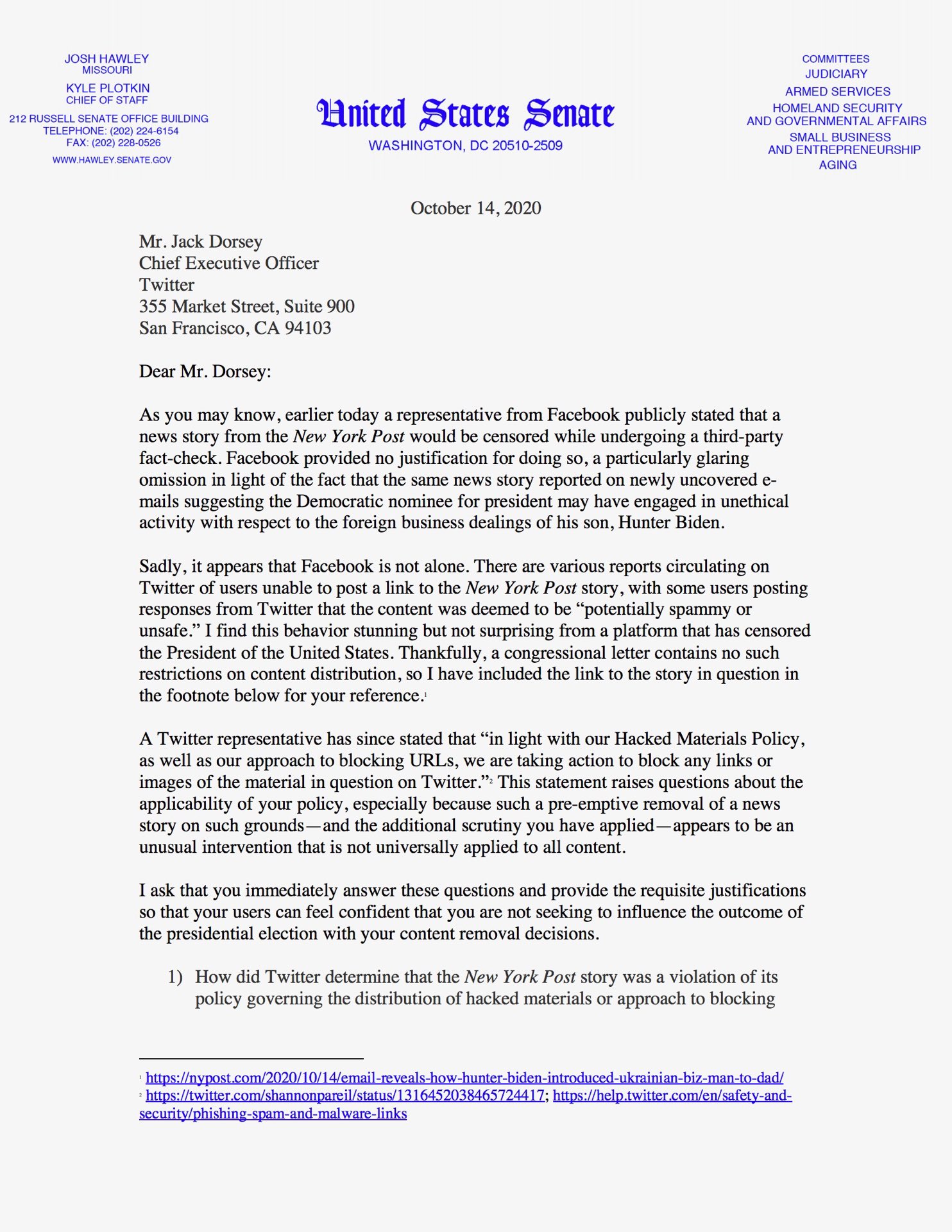 ---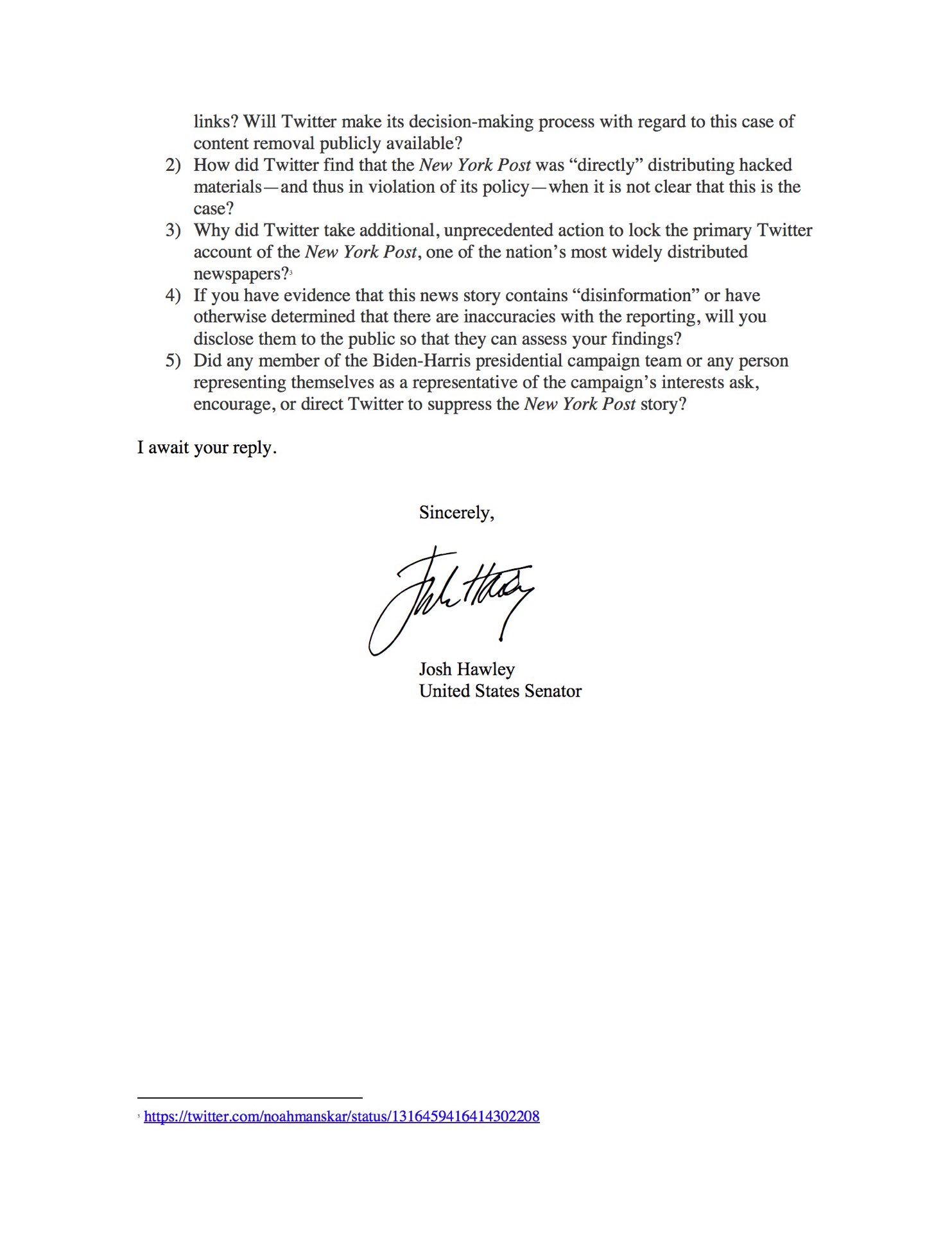 President Trump also addressed the social media censorship on Twitter Wednesday evening, saying, "So terrible that Facebook and Twitter took down the story of "Smoking Gun" emails related to Sleepy Joe Biden and his son, Hunter, in the @NYPost. It is only the beginning for them. There is nothing worse than a corrupt politician."
He went on to exclaim "REPEAL SECTION 230!!!" calling out the legislation that provides immunity to Big Tech companies.
---
Follow the author on Gab: https://gab.ai/adansalazar
On Twitter:
On Parler: https://parler.com/profile/adansalazar/
On Facebook: https://www.facebook.com/adan.salazar.735
On Minds: https://www.minds.com/adan_infowars
Delaware Computer Repairman Shatters Mainstream Media Narrative