Update (0800ET):
General Motors CEO Mary Barra told CNBC in an interview:
"I'm frustrated and disappointed. We don't need to be on strike right now.

"We have a very generous offer on the table right now. It's historic. From a wage increase perspective, it's the most significant offer we've had in our 115-year history."
Barra warned:
Strikes will "not be good for the economy overall."
She added:
Strikes can be resolved "very quickly" after a "historic" offer from the automaker.
Still, GM's offer and Ford's and Stellantis' offers are still well below the demand threshold for the union.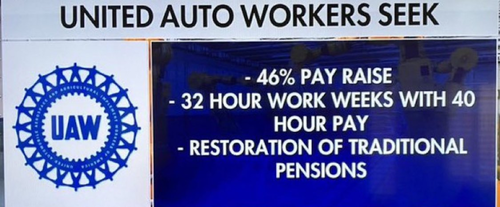 … and then there's this. 
Nice job pro-union Biden..
For the first time in United Auto Workers' 88-year history, the union has mobilized a strike against Detroit's "Big Three" automakers – General Motors, Ford, and Stellantis, the producer of Chrysler. Negotiations for a new four-year labor contract between UAW and the three automakers broke down before midnight, triggering a strike at several manufacturing plants.
As many as 13,000 UAW workers abandoned their workstations. They walked out of factories belonging to the Big Three, including the Ford Motor Co. plant in Michigan that makes Bronco SUVs, a General Motors Co. factory in Missouri that assembles Chevrolet Colorado pickups, and a Stellantis NV plant in Ohio that builds Jeep Wrangler SUVs, at 2359 ET (as the current labor contract expired).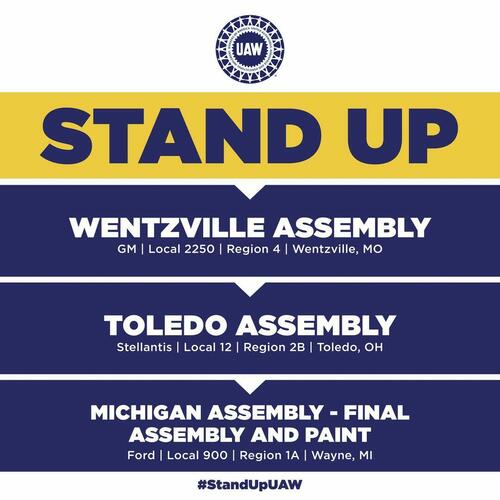 "Tonight, for the first time in our history, we will strike all three of the Big Three at once," UAW boss Shawn Fain declared.
Fain explained, "This strategy will keep the companies guessing. It will give our national negotiators maximum leverage and flexibility in bargaining. And if we need to go all out, we will. Everything is on the table."
Fain told workers at a Ford Assembly Plant in Michigan, "We didn't want to be here. We want a fair agreement. We want fair economic and social justice for our members. That's what this is all about. And it's a shame." 
Reporters asked Fain whether a 20% pay increase for a new contract would be acceptable for workers. He argued that automobile prices have surged 30% in the last four years while pay for CEOs has jumped even higher.
Ford and GM shares in premarket trading are down about 1.5%. Also, watch auto suppliers: Aptiv, Autoliv, BorgWarner, Adient, American Axle, Visteon, Lear, and Goodyear Tire.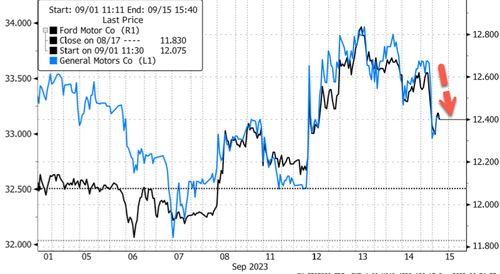 John Murphy, a senior auto analyst at Bank of America Securities, was correct last week when he warned clients that a strike was "almost guaranteed."

Meanwhile, President Biden was very wrong about the strikes. Earlier this month, during a visit to his beach house in liberal white-elitest Rehoboth Beach, he said, "I'm not worried about a strike. I don't think it's going to happen." 
UAW's targeted strikes are hitting automaker's most popular and profitable models. They have so far spared plants that make Ford F-150, Chevy Silverado, and Ram pickups, as those plants could be targeted down the line.
As for strike impacts, HSBC analyst Michael Tyndall told clients Stellantis would endure $373 million per week as long as the labor action was underway.
Also, "Small and medium-sized manufacturers across the country will feel the brunt of this work stoppage, whether they are a union shop or not," the National Association of Manufacturers said in a statement.
Gene Munster, a managing partner at Deepwater Asset Management, told clients in a note Thursday that Tesla appears to be the big winner here as it has spent years fending off unionization attempts.
"Big auto is in a tight place when it comes to transitioning its business to electric, and the current UAW discussions will eventually result in a steep increase in costs that will further push them into the red," Munster said.
Bloomberg's Mark Cudmore warned a prolonged strike could send a wrong message to companies attempting to re-shore operations across the US because labor will be too expensive.
It begins…
---
Greg Gutfeld Says Alex Jones Was Right!
---