J. D. Heyes
Natural News
August 27, 2013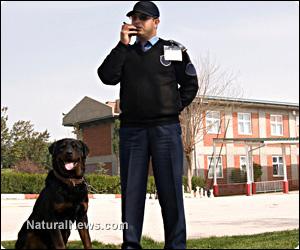 There is something to be said for wanting to keep our children safe from harm. It's as natural an emotion for a parent as there is. But at some point we have to ask ourselves as a society if we're going to let abject fear take over our lives or if we're going to stand up and overcome our fears by being proactive and solutions-oriented.
I'm talking in particular about new security policies implemented by a number of schools in North Texas, beginning this year. According to CBS Dallas-Fort Worth, new tradition-killing rules prohibit parents – parents, mind you – from walking their kids to the front door of their school.
Per CBS-DFW:
All of the extra security is in response to what happened nearly nine months ago at Sandy Hook Elementary School in Newtown, Connecticut. It was December of last year when a gunman opened fire at the school, killing 20 students and six adults.
You, parent – stay by the curb
In the Hurst-Euless-Bedford (HEB) Independent School District, the report said, parents will have only the first week to walk their young ones to class. The new "security" policy will go into effect after that. But that's only because registration and enrollment is taking place that first week.
The new policy is just another way public schools are injecting themselves into the traditional parent-child relationship. This horrible policy is sending the message to kids that their parents can't keep them safe – only the school can.
It's upsetting more than a few moms and dads, and rightfully so.
(Article continues on next page.)