Infowars.com
October 30, 2013
In an effort to help Obama live up to his promise of the most transparent administration in history, Kentucky Senator Rand Paul has announced he may mount an offensive against the president's nomination of Council on Foreign Relations member Janet Yellen to fill the chair of exiting Fed boss Ben Bernanke.
In a letter to Sen. Majority Leader Harry Reid yesterday, Paul explained he would issue a formal objection to Yellen's nomination, unless the Senate held an up or down vote on his S. 209 legislation, a bill known as the Federal Reserve Transparency Act, which passed a House vote 327-98, but has been stalled at the Senate level for three years.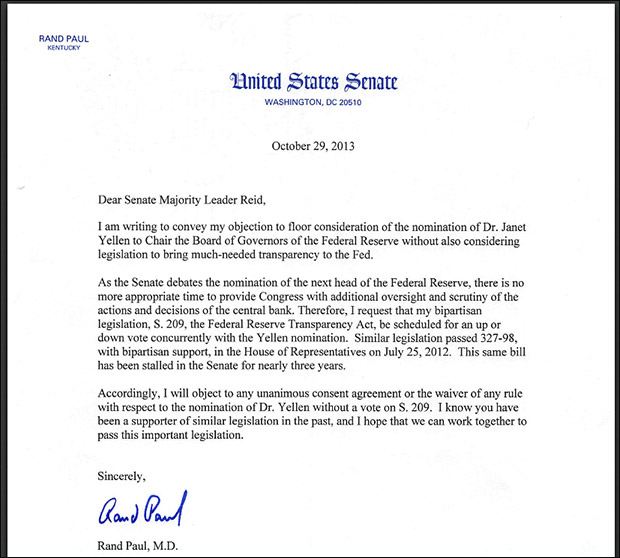 "As the Senate debates the nomination of the next head of the Federal Reserve, there is no more appropriate time to provide Congress with additional oversight and scrutiny of the actions and decisions of the central bank," Paul's letter states.
"Accordingly, I will object to any unanimous consent agreement or the waiver of any rule with respect to the nomination of Dr. Yellen without a vote on S. 209."
Days earlier, Sen. Paul's father, former Congressman Ron Paul, had told CNBC his son would hold up Yellen's appointment in order to highlight his "Audit the Fed" bill, which calls "To require a full audit of the Board of Governors of the Federal Reserve System and the Federal reserve banks by the Comptroller General of the United States, and for other purposes."
"We don't know the details of the trillions of dollars that were used to bail out banks and central banks around the world and corporations during the crisis," former Congressman Paul said. "The numbers that they give you I don't think are all that revealing."
Previously, Sen. Paul led a 13-hour long filibuster against the nomination of CIA chief John Brennan, over the Obama administration's refusal to give a straight answer on whether or not they would target American citizens on American soil with drones.