Dave Phillipps
Al Jazeera
March 25, 2014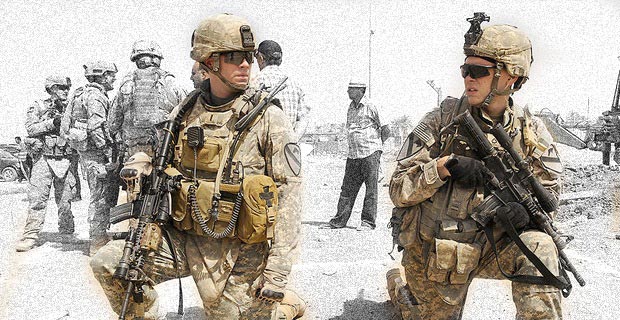 After three combat tours, Sgt. Dennis Tackett was kicked out of the Army for punching a man in the face while drunk. It didn't matter that he had been diagnosed with PTSD (by the Army) and had tried to get help (from the Army) for the drinking it led to. It didn't matter that he was in the late stages of a medical discharge that would get him out soon anyway — with benefits. What mattered to the commanding general at Fort Carson, Colo., who spoke to him that day in November 2012 was that he had tried to fight the discharge with the help of a pair of civilian watchdogs, Georg-Andreas Pogany and Robert Alvarez.
"If you had not gotten involved with those advocates, it would have gone differently," Tackett remembers the commander, Lt. Gen. Joseph Anderson, telling him. Anderson is now commander of Fort Bragg, N.C.
A recording obtained by Al Jazeera America suggests Tackett and soldiers like him were retaliated against because of an increasingly rancorous relationship between commanders at Fort Carson and the civilian advocates.
Anderson, who, according to Tackett and as confirmed in the recording, kicked out soldiers for going to the advocates, says the charge is "simply not true."
"No Soldiers were ever punished due to their association with anyone," said Anderson, who was commander of Fort Carson until March 2013.
"Cases were only dealt with based on the evidence associated with what the Soldiers did on their own," he told Al Jazeera in an email from Afghanistan, where he is deployed.
The recording, which is just over two minutes long, suggests that at Fort Carson, Anderson made decisions based on factors other than law.
The recording begins with Sgt. Maj. Mark Cook, the top enlisted soldier in Fort Carson's Staff Judge Advocate Office, which oversees misconduct discharges.
Cook had clashed repeatedly with the advocates in the previous year as they tried to appeal his office's efforts to kick soldiers out.
A few months before the recording was made, Cook was instrumental in getting the two advocates banned from Fort Carson for being "disruptive to the good order and discipline" of the post.
In response, the advocates appealed the decision to top levels of the Army and Congress, saying the accusations were baseless and the ban was designed to keep them from intervening in wrongful discharges. Now Cook was searching for evidence to justify the ban.
"Who in your office is providing records to Pogany and Alvarez? 'Cause that's illegal," Cook says at the start of the recording, speaking to an unidentified woman at Fort Carson's hospital who seems to be crying.
The full context of the conversation, and who provided it to Al Jazeera, is not known, but based on details of the conversation and the date the file was created, it likely took place in March 2013.
Cook tells the woman he can make sure no one sees her sworn statement against the advocates other than a few commanders, and might be able to arrange that the woman's name doesn't appear on the statement at all, but he needs her to give a statement.
The sergeant major, who is currently deployed in Afghanistan, told Al Jazeera in an email statement that the recording was part of a "20+ minute" phone conversation, but declined to elaborate.
In the recording, Cook tells the woman her statement will "help a lot" because he has to answer questions from Congress, the Army's inspector general and top generals, and "we never actually caught them. Well, one time, I got one other statement from somebody that they told them to drool. Somebody witnessed them telling a patient to drool so that they have to keep you in the mental hospital. That's the other statement I have other than yours. But this statement is, it will be almost like the nail in the coffin for these guys."
Pogany and Alvarez denied that they had told anyone to drool, calling the idea "ridiculous," and said they have no need to illegally obtain Army medical records because soldiers they help have access to their own records and provide them willingly.
"And these guys are bad, right, they are not good guys?" the woman asks in the recording.
"Yeah," Cook replies. "I can give you an example of one case when the [commanding general] met with the soldier after he discharged the soldier, and the general, General Anderson, told the soldier, 'If you would have brought this stuff to the attention of the command beforehand instead of approaching it the way you did with these advocates, you probably would have been able to stay in the Army.'"
"Really?" the woman asks.
"Yes, and that is straight — I witnessed that from General Anderson," Cook says.
At that point the recording ends.
In his statement, Cook said he was not implying soldiers were kicked out for associating with the advocates.
"The gist of what I said in that conversation is that if Soldiers with legitimate issues explained their misconduct to their chain of command to seek resolution, this matter would likely have helped their situation. Instead, they chose to use two individuals who were outside their chain of command as their ombudsmen, which may have negatively affected the outcome of their case," he said in his statement.
The advocates disagree.
"It's absolutely outrageous," Pogany said when he heard the recording. "Essentially what they are admitting is they punished soldiers for asking us for help."
What happened to Tackett seems to show in practice what is expressed in the recording: how the advocates tried to intercede for a veteran being mistreated by the system and how commanders responded.
Take advantage of one of nature's most hardworking nutrients with Vasobeet now at 40% off!