Andrew McGill
Pittsburgh Post-Gazette
October 25, 2015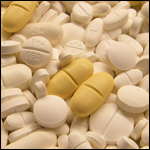 One kid called it "the brainwash pill." Some said it made them put on weight or provoked teasing from schoolmates when they were called to the nurse's office.
But for others, it was even worse. One foster child, interviewed by researchers studying how medication is given to children in the Allegheny County system, said the meds the doctors prescribed deadened all feelings, taking away what it means to be a kid.
"I couldn't eat, I couldn't move," the child said. "It was like I was in a full body straitjacket."