Donald Trump closed a 12-point polling gap with Hillary Clinton in five days, leaving them half a percent apart during the next two-day period, according to new polling data from Reuters.
On August 22, Clinton led Trump by 12 points, 44.8 percent to 32.8 percent. By Aug. 27, the two candidates were neck and neck, according to Reuters.
By Aug. 29, Trump had nudged up again to 39.1 percent, while she was at 39.7 percent. He gained 6.7 points, while she lost 5.1 points during the entire seven-day period.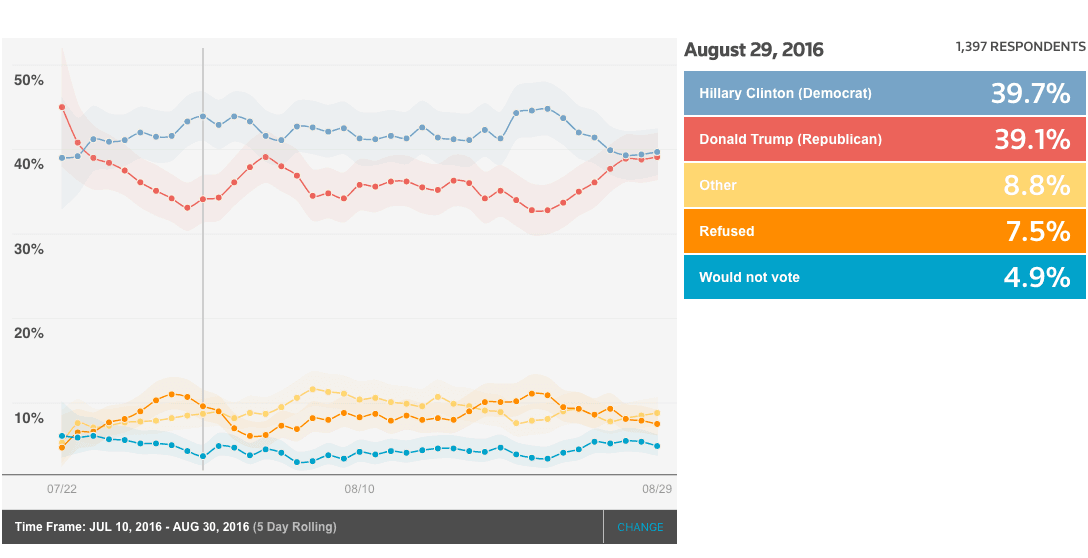 Twenty percent of the respondents declined to pick either of the two leaders in the poll of 1,397 likely voters, which was concluded Aug .29.
Trump's support among Republicans climbed from 71 percent up to 78.3 percent. Clinton's support among Democrats dipped slightly from 81.6 percent to 78.5 percent.
We are in the FINAL HOURS of our 4th of July Super Sale! Get double Patriot Points and free shipping on the hottest items!