RIA Novosti
March 3, 2014
Russia's currency fell to a historic low on Monday as stock markets in Moscow lost more than 9 percent of their value minutes after trading began.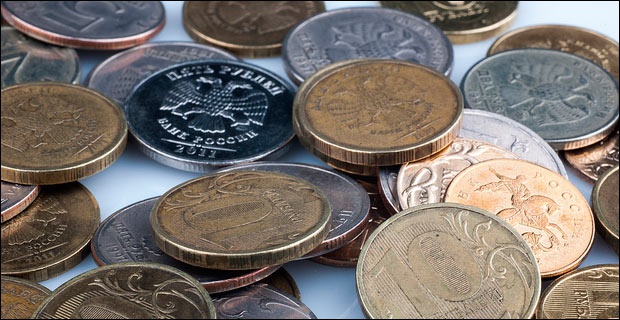 Such a crash was widely predicted by experts after Russia approved the use of military force in Ukraine on Saturday, prompting widespread condemnation from the international community.
Responding to what it described as "risks to financial stability," Russia's central bank increased interest rates by 1.5 percent in a surprise move Monday. The hike follows an 18-month period when the regulator left interest rates unchanged.
Officials in the United States and Europe have told Russia that its actions in Ukraine could lead to possible economic sanctions and asset freezes.
The dollar rose more than 50 kopeks to 36.35 rubles and the euro climbed 55 kopeks to 51.2 rubles in morning trading, according to data from the Moscow Exchange. The ruble, which has fallen steadily this year, is now at record lows against both the ruble and the dollar.
The declines brought the Russian currency to levels outside the trading corridor mandated by the central bank, causing the regulator to announce that it was widening the target band by 20 kopeks.
The falling ruble was accompanied by plunging equities on Russia's stock exchanges.
The MICEX bourse was down more than 9 percent under an hour after trading began at 10 a.m., while the dollar-denominated RTS lost over 10 percent.
Major Russian companies saw millions of dollars of value wiped out.
Shares in state-owned gas giant Gazprom, which is considered particularly vulnerable to events in Ukraine because of its extensive pipeline system in the country, fell by almost 11 percent.
"[We are] understandably seeing sellers across the board," one major US investment bank based in Moscow wrote in a note to clients Monday.
Trading of steel and mining company Mechel was temporarily halted as its shares fell 26 percent. Russia's two largest banks, Sberbank and VTB, lost 8.2 percent and 11.2 percent respectively.
In one of the bluntest warnings of economic consequences for Moscow if it continues military action in Ukraine, US Secretary of State John Kerry told NBC's "Meet the Press" show on Sunday that the United States and some of its allies were "prepared to go to the hilt to isolate Russia."
"They're prepared to put sanctions in place, they're prepared to isolate Russia economically, the ruble is already going down. Russia has major economic challenges," he said.
The ruble's sharp falls on Monday in Moscow have compounded this year's declines. The Russian currency has lost almost 9 percent of its value against the central bank's euro-dollar basket since the beginning of 2014.
As the scale of Russia's military incursion in the southern Ukrainian region of Crimea grew last week, Russia's MICEX Index lost 2.8 percent and the ruble declined 1.7 percent against the dollar.
"The market's collapse is a vote of no confidence in [Russian President Vladimir] Putin," former deputy central banker Sergei Aleksashenko wrote on Twitter on Monday. "Russian business and its population are voting against the authorities' recklessness."
The Emergency Election Sale is now live! Get 30% to 60% off our most popular products today!