Russian official said his country will go to war over Crimea
Infowars.com
February 24, 2014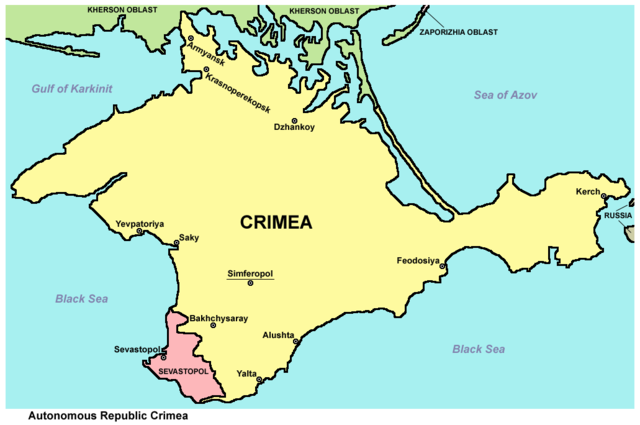 The Russian Navy confirmed it has deployed Marines to Sevastopol in Crimea. Troops deployments began over the weekend.
It also confirmed that a large landing ship, the Nikolay Filchenkov, from the Black Sea Fleet of the Russian Federation, sent Marines based in Temryuk, Russia. The Filchenkov also delivered ten BTR-80 armored personnel carriers, according to the naval website.
The weekend airlifts using four Ilyushin Il-76 strategic aircraft out an airbase in near Moscow delivered personnel from the 45th Airborne Special Forces to Anapa on the Black Sea, according to the report. Six Soviet-designed medium twin-turbine MI-8 transport helicopters were also sent.
The Black Sea Fleet stationed at Sevastopol includes various infantry, assault, artillery, reconnaissance and air defense battalions.
Interfax Ukraine reported antitank hedgehogs were placed at the Yalta highway in Sevastopol. A local newspaper explained the devices were placed in response to a spate of recent carjackings.
The unconfirmed video below allegedly shows troop movements in Ukraine.
During the upheaval in Kyiv last week, Russia quietly dispatched one of Putin's leading advisers, Vladislav Surkov, to meet with Crimean leader Anatoly Mogilev, Crimean legislative Speaker Vladimir Konstantinov, and Sevastopol Governor Vladimir Yatsuboi. Meetings were also held in Moscow and included Sergei Naryshkin, the speaker of the State Duma.
On February 20, an unidentified Russian government official told the Financial Times Russia is willing to go to war over Crimea. "If Ukraine breaks apart, it will trigger a war," the official said. "They will lose Crimea first [because] we will go in and protect [it], just as we did in Georgia."