Company specializing in response to "National Security challenges" seeks new employees
Julie Wilson
Infowars.com
August 20, 2013

A recent post on a San Diego Craigslist website advertises the need for "motivated" Surveillance Role Players (SRPs) and scenario driven practical exercise Role Players (RPs). The ad claims to be looking to fill these positions to "support military training activities in the San Diego, Calif. region."
The ad further states: "Qualified personnel should demonstrate an established track record of conducting surveillance operations at various discretion levels, supporting surveillance training and military practical exercise training. Individuals with previous military, intelligence community and law enforcement experience are highly preferred."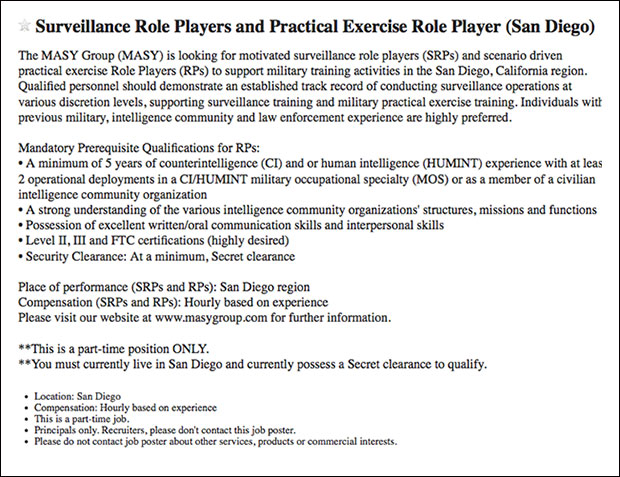 The MASY Group, the company hiring, is looking for candidates that have a minimum of five years of counterintelligence (CI) or human intelligence (HUMINT), with at least two years of operational deployments in a CI/HUMINT military occupational specialty. Applicants are also required at minimum, to possess a secret clearance to qualify.
According to the company's website, their mission is to "effectively address and solve our client's emerging and most complex leadership, organizational and operational challenges."
The MASY Group's board of advisers consists of several political players with quite lengthy government profiles including Dr. Loch Johnson, former special assistant to the chair of the Senate Select Committee on Intelligence from 1975-76, and former first staff director of the House of Subcommittee on Intelligence Oversight in 1977-79.
Also on the board is Dr. Mark M. Lowenthal, President and CEO of the Intelligence and Security Academy, LLC, which has government clients in the intelligence, defense and homeland security sectors. The third board member is Rear Admiral Christopher Weaver who has an extensive background in "Defense base infrastructure management and strategic organizational change."
The MASY Group offers services to government agencies and corporate clients including:
(Article continues on next page.)