FreeKeene.com
December 24, 2012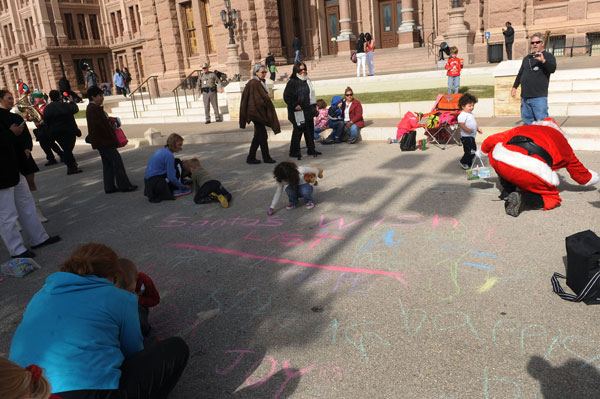 Picture from FreeKeene.com

Santa Claus, also known by his friends as James Peterson, was arrested after spreading holiday cheer and chalk with young people in front of the Texas capitol building on the 21st. An occupy activist who was giving out chalk to children while dressed as Santa was well received in the plaza, but as he left, Texas DPS officers chased him down and handcuffed him. The crowd appears shocked, one woman yelling out in confusion, "You're arresting Santa Claus?!"

The jolly red man asks numerous times, "Why am I being arrested?" After a minute, they tell him that he was chalking the sidewalk. A few in the crowd having filmed the entire time tell police that everyone was chalking, to which a female officer states, "You're the only report that we got of chalking."

Cory Williams takes a seat on the pavement behind his friend from the North Pole as he begins expressing his displeasure at being arrested "for being nice". Recording the scene, Cory then chalks on the pavement in front of him, FREE SANTA. Shortly thereafter, DPS officer Ken Scheer, who had walked around the crowd videorecording faces of bystanders, stands Cory up and arrests him for chalking.