Patrick Goodenough
CNS News
November 12, 2013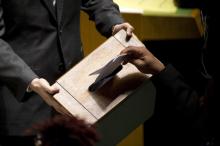 By the end of Tuesday, a handful of countries notorious for blocking human rights promotion at home and abroad will have rejoined the U.N. Human Rights Council.
Due to an absence of competition, Tuesday's vote at the General Assembly in New York will see China, Russia and Saudi Arabia all return to the council in January, just one year after term limits obliged them to stand down. They will be joined by Vietnam, which will take a seat for the first time since the Geneva-based HRC was established in 2006.
The State Department's latest report on human rights in China describes it as "an authoritarian state in which the Chinese Communist Party constitutionally is the paramount authority." The report also cited China for its coercive one-child-per couple policy which sometimes resulted in "forced abortion" or "forced sterilization."
The Emergency Election Sale is now live! Get 30% to 60% off our most popular products today!