AFP
January 31, 2013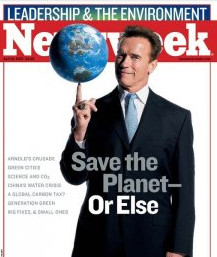 image courtesy of Newsweek
Arnold Schwarzenegger called Thursday for an end to "doom and gloom" environmentalism as he hosted the first conference of his new green movement fostering action by local governments and individuals.
"If we want to inspire the world, it is time for us to forget about the old way of talking about climate change, where we crush people, where we overwhelm people with data," the former California governor, bodybuilder and film star said.
"There is a new way, a more sexy, a more hip way. Instead of using doom and gloom and telling people what they can't do, we should make them part of our movement and tell them what they can do," he said.
The Emergency Election Sale is now live! Get 30% to 60% off our most popular products today!