The Scotsman Newspaper has marked President Trump's visit to Scotland this weekend with a brutal editorial declaring that he is a 'racist, a serial liar, and a sex abuser'
"Donald Trump, due to arrive in the UK later today, is a racist, a serial liar, and either a sex abuser or someone who falsely brags about being one in the apparent belief that this will impress other men in a metaphorical "locker room"", the piece states.
"As British politicians hide their distaste in an attempt to get a much-needed post-Brexit trade deal, we should all remember what kind of man Trump really is." the piece continues, further labeling the President as an "appalling human being."
This was published today in The Scotsman, Scotland's national newspaper. Strong language. https://t.co/dPIQpgqoVn pic.twitter.com/x0dSx8gT3F

— Kyle Griffin (@kylegriffin1) July 13, 2018
It highlights comments Trump made regarding "fine people both sides" after the Charlottesville troubles last year, as well as the infamous comment Trump made in private about "sh*thole countries."
The piece also states that Trump has called for "total and complete shutdown of Muslims entering the United States," and that he has said Mexican immigrants are rapists and criminals.
The piece also takes a dig at Trump's 'favourite pastime of decrying fake news', citing a Washington Post claim that Trump lies 6.5 times a day in public.
The editorial is accompanied by a video accusing the President of trying to "cosy up" to Scotland, the place of his mother's birth, while using it for his golf resort, and not caring about the environmental impact his developments have had.
The Scotsman also published several other negative pieces on Trump, including a claim that Trump 'hates' Scottish leader Nicola Sturgeon, and an article highlighting comments made by SNP deputy leader, Keith Brown, who is to join protesters to make it clear Trump is not welcome.
"Scotland rejects Trump's politics of division and hatred and we stand with our friends in the US who oppose him," Brown said.
Trump is not meeting either politician, and will instead spend time at his golf resort at Turnberry.
Regarding the planned protests, Trump said "There might be protests, but I believe that the people in the UK, Scotland, Ireland, I think those people, they like me a lot. And they agree with me on immigration – that's why you have Brexit in the first place, because of immigration."
A Scottish beer company has produced some small cans of its product, along with a campaign mocking Trump for having "Tiny hands":
Hey @realDonaldTrump There's been a bit of a heatwave in Scotland recently, so if you get thirsty while you're here… pic.twitter.com/0JJM0l68qE

— Tennent's Lager (@TennentsLager) July 12, 2018
The organizers of the Trump blimp, which was "flown" in London briefly today have failed in an attempt to use it at Turnberry, with police citing airspace restrictions in the area.
"On this occasion we are unable to grant permission for the balloon to fly in that area, however we are in discussion with the applicants about possible alternatives." a police spokesman said.
The "blimp," which has received a lot of mainstream media attention, was widely mocked after it's first appearance for being so small:
https://twitter.com/ToiletSeatBecky/status/1017746335418679301
HA HA HA HA HA HA HA

£30K

HA HA HA HA HA HApic.twitter.com/sRoRgBwHFq

— Old Holborn✘ (@Holbornlolz) July 13, 2018
The widely heralded Trump baby balloon protest in London fell flat as many were left wondering what the organizers had spent the money on. https://t.co/BnL9plzmFW

— Paul Joseph Watson (@PrisonPlanet) July 13, 2018
Can't work out which is more pathetic – the size of the Trump balloon or the size of the protests. #TrumpBabyBlimp pic.twitter.com/WHzSNYagFG

— Paul Joseph Watson (@PrisonPlanet) July 13, 2018
Protests, described as "large scale" by the media, were also clearly not well attended:
https://twitter.com/PrisonPlanet/status/1017751747899650048
When asked about the blimp and the protests, Trump said "I guess when they put out blimps to make me feel unwelcome, no reason for me to go to London."
"I used to love London as a city –I haven't been there in a long time. But when they make you feel unwelcome, why would I stay there?" Trump added.
"And when I say that I am talking about government because the people of the UK agree with me," Trump clarified, noting that "many people are delighted."
"I get thousands of notifications from people in the UK that they love the President of the United States. They want the same thing I want," he said.
"The people of the UK, and I'll bet if you had an honest poll, I'd be very strong. They want the same thing I want. I love the UK." The President declared.
A YouGov poll released to coincide with the arrival of the President found that a plurality of British people support Trump's visit.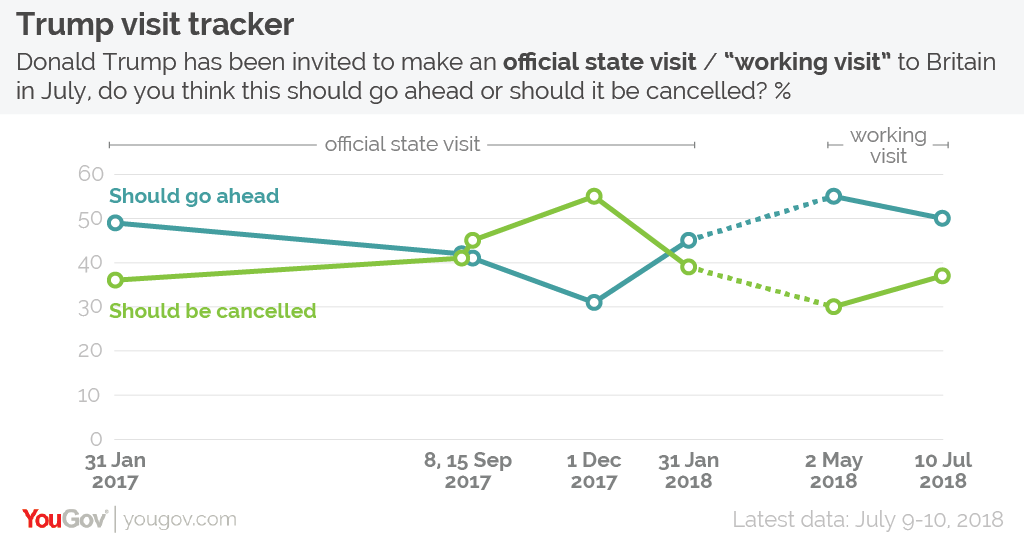 However, the same poll found that a majority of people believe Trump is racist and sexist: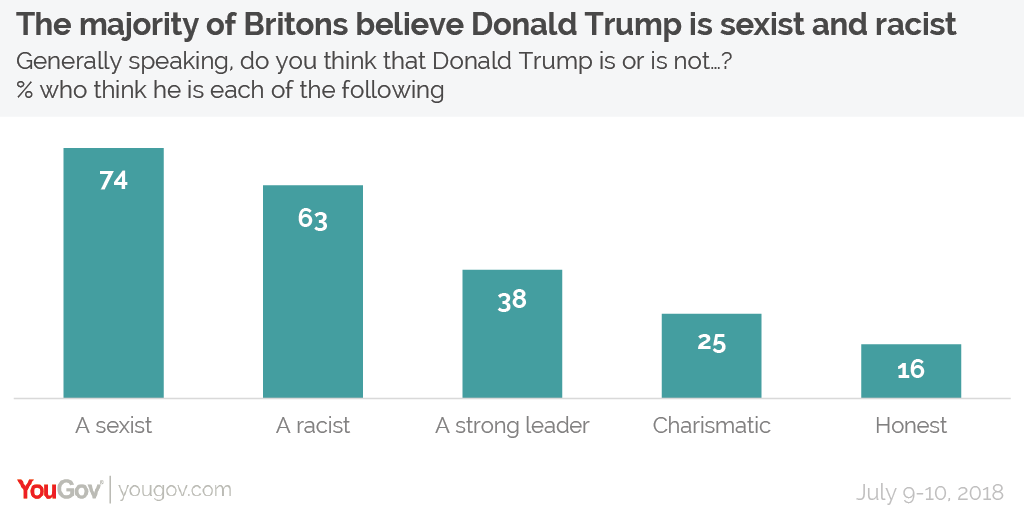 The Emergency Election Sale is now live! Get 30% to 60% off our most popular products today!