Cops under investigation for violating reporter's rights
Adan Salazar
Infowars.com
August 9, 2013
Police in King County, Wash. are on the defendants' end of a legal dispute after a journalist filed two formal complaints alleging they trounced his First Amendment rights when they threatened him with arrest as well as workplace harassment.
Dominic Holden, an editor at the Seattle newspaper The Stranger, says he rode up to police as they were questioning a black man at a transit station, and began snapping photos from about 25 feet away. Holden says police were about done talking to the man when he heard one of the officers say something to the effect of "He's got a camera!"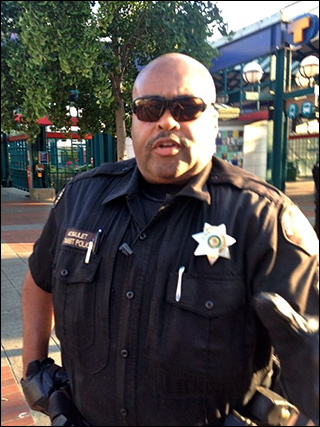 At that point, King County Sheriff's sergeant Patrick "K.C." Saulet walked up to him and began threatening him with arrest because Holden was standing on King County Metro property.
"I backed up until I was unambiguously on the City of Seattle's sidewalk, near the curb. But Sergeant Saulet insisted that I would be arrested unless I left the entire block. He pointed east and told me to cross the street," Holden wrote for The Stranger.
"You need to leave or you're coming with me," Saulet reportedly told Holden, although according to the editor, the transit station was crowded with people walking closer to the incident than he was.
As he was in no mood to get arrested, Holden took his bike across the street where he began to write notes about the incident.
When he asked one of the officers leaving the scene who the commanding officer was, Seattle Police Department officer John Marion became noticeably agitated.
"I explained to him that I'd just been threatened with arrest for standing on the sidewalk (even though he'd just watched the whole thing), so I wanted to know who was in charge and if he thought it was illegal to stand on the sidewalk," wrote Holden.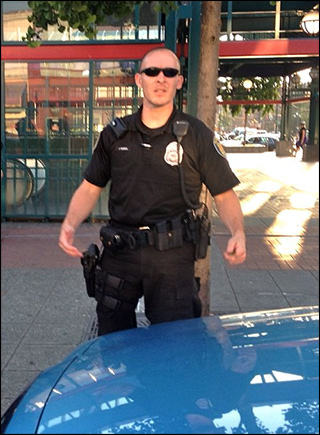 After revealing that he was a journalist, Officer Marion asked which publication he worked for and followed up with, "I'm going to come into The Stranger and bother you while you're at work," implying that Holden was bothering him at work.
"In other words, I stopped and asked matter-of-fact questions in a normal tone, and this SPD officer—with two colleagues at his side—escalated the situation without prompt or segue by threatening to 'bother' me at my job," the editor wrote.
Holden says the two officers' behavior falls directly in line with a recent Department of Justice assessment of the Seattle Police Department, in which they found "a pattern or practice of constitutional violations regarding the use of force" and that officers needlessly escalated events which often led to violent outcomes and even deaths.
Furthermore, Holden says the King County Sheriff's Department spokeswoman agreed that what he had done was perfectly legal. "It's a free country, and as long as you have a legal right to be there, you can take a picture," Sergeant Cindi West stated.
"She elaborated in an e-mail that 'in general a person cannot be ordered to stop photographing or to leave property if they have a legal right to be there. Additionally, if a group of people are in an area legally we could not order just one person to leave,'" reported Holden.
Indeed, the right to film police in public as they go about their duties was upheld by a First Circuit Court of Appeals in August 2011.
"On Friday, August 26, 2011, the First Circuit Court of Appeals, which is New England's highest federal court just below the U.S. Supreme Court, ruled that citizens are allowed to videotape law officials while they conduct official duties," reported DailyTech.com.
Another sergeant for the Seattle Police Department also stated that answering the public's questions "when it is safe to do so" is part of their jobs, and that threats to harass someone at their workplace is definitely not standard operating procedure. "The public does not expect us to threaten them with a workplace visit for the sole purpose of bothering them," Sergeant Sean Whitcomb stated.
Holden says he took the county sheriff's office's advice and filed complaints "with both the King County Sheriff Office's Internal Investigations Unit and the SPD's Office of Professional Accountability, submitting both recorded audio testimony and written allegations."
He says that, even though this can be seen as "minor" issue, he's pursuing it because "incidents like this shouldn't be happening in the first place -and some minor incidents turn into major incidents."
"This is part of the pattern that led to the SPD's consent decree and still some cops haven't gotten the message. They are part of a stubborn, toxic culture of disrespect and intimidation, and until that culture is exposed and discarded—and until bad apples are fired or retired—the local police will be reviled by people who should appreciate and trust them," Holden wrote in late July.
According to KOMO News, both officers are under investigation. Officer Marion remains on the job, while Sheriff Saulet has been placed on paid administrative leave.