Shane Goldmacher
National Journal
February 6, 2013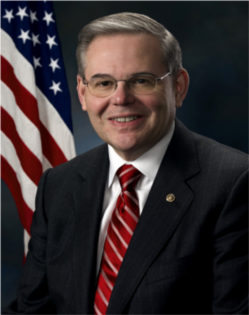 When Robert Menendez arrived in the U.S. Senate in 2006, he was a relative pauper in a chamber often called a millionaires' club. The New Jersey Democrat ranked 97th out of 100 senators in terms of his personal wealth, according to financial records filed that year and compiled by the Center for Responsive Politics.
So Menendez's decision last month to use his personal funds to reimburse a prominent political contributor $58,500 for two flights to the Dominican Republic came at a major cost. The repayment amounts to between 32 percent and 87 percent of the assets Menendez reported holding in bank accounts and stock, according to his latest financial-disclosure form, which was filed last year.
[…] In a statement, Menendez's office defended the senator and said all flights had now been paid for. "Dr. Melgen has been a friend and political supporter of Senator Menendez for many years," the statement said. "Senator Menendez has traveled on Dr. Melgen's plane on three occasions, all of which have been paid for and reported appropriately." (The third trip was previously paid for and reported by the Democratic Senatorial Campaign Committee, which Menendez chaired in 2009 and 2010, as the senator was traveling to raise funds.)
The tale of Menendez and Melgen has taken dramatic twists and turns in recent weeks. A conservative website, The Daily Caller, first alleged last fall that Menendez had visited prostitutes during the Dominican trips with Melgen. The accusations didn't draw wide media attention until the FBI raided Melgen's Florida offices last week, though it is not clear the raid had any connection to Menendez. Menendez told CNN: "The bottom line is, all those smears are absolutely false." The FBI would not comment.
Our 4th of July Super Sale has been extended! Get double Patriot Points and free shipping on the hottest items!