Kurt Nimmo
Infowars.com
February 26, 2013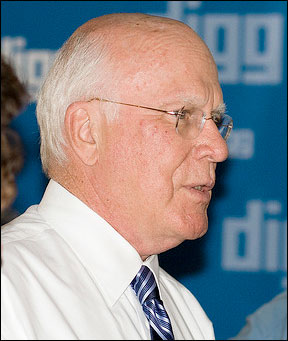 Democrats sitting on the Senate Judiciary Committee have signaled they are ready to start voting on Obama and Feinstein's anti-Second Amendment legislation.
Vermont Democrat senator Patrick Leahy, an ardent anti-gun advocate, in his role as committee chairman, said his panel will consider the following:
-Feinstein's bill outlawing so-called assault weapons and ammunition magazines holding more than ten rounds.
-Leahey's proposal to stiffen penalties for illegal trafficking in firearms and an increase in prison sentences to 30 years for individuals who sell guns they know will be used in crimes.
-Democrat senator Barbara Boxer's measure to redouble federal funding for an increase in the number of surveillance cameras in schools.
In addition to the above measures, Leahey's committee will look at legislation to expand background checks for all gun purchases, including private gun sales between individuals. If enacted, Leahey's legislation will all but shut down gun shows. It will also be used to keep track of all guns in the United States. The proposal currently sits at the top of Obama's to-do list.
"This so-called background check is aimed at one thing — registering your guns," the NRA's Wayne LaPierre said over the weekend. "When another tragic opportunity presents itself, that registry will be used to confiscate your guns … Imagine right now your name on a massive government list."
Democrats, however, will have a difficult time enacting a new round of anti-Second Amendment legislation. Senator Chuck Schumer of New York is attempting to reach a compromise with Republican senator Tom Coburn of Oklahoma on the proposed legislation.
On Sunday Coburn said any attempt to keep records on "legitimate, law-abiding gun owners… will kill this bill."
Senator Charles Grassley of Iowa, who is the panel's top Republican, has announced he will seek to postpone legislative work for a week, a practice that is followed routinely. "It's just a process of making sure we have plenty of time to study" legislation, Grassley said.
Both Republicans and moderate Democrats oppose Feinstein's bill and it is given low odds of passage. The California Democrat Feinstein will chair a Judiciary Committee hearing on Wednesday that will include testimony from victims of the Sandy Hook School massacre in Newtown, Connecticut, last December.
"Feinstein has said the public needs to know how gruesome assault weapons wounds can be," the Associated Press reported on Monday.
The Reopen America Back to School Special is now live! Save up to 60% on our most popular items!