Terresa Monroe-Hamilton
NoisyRoom.net
May 11, 2011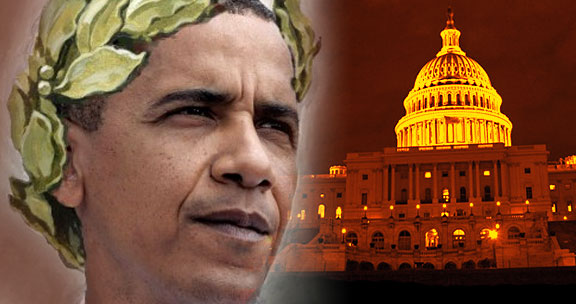 While all of America is distracted and focused on the death of Osama bin Laden, our President and his minions have been fast at work laying the groundwork for S. 679: Presidential Appointment Efficiency and Streamlining Act of 2011 to speed through the Senate and then make its way into the House and then to the President to sign. Yes, the other hand is quickly forming into a dictatorial fist that is about to smash our Constitution.
As you will recall, the beginning of the end of liberty in Rome commenced with Augustus Caesar who compromised the authority of the Senate through the force of arms and basically the Senate became a facade. America is poised with this proposed bill, to morph immediately from a Republic into an empire with the privileged eunuchs of the Senate as window dressing and a dictator – the first American Caesar – at the country's helm.
And leading the progressive charge is Chuck Schumer (D-NY). No big surprise there. Schumer is an elitist Marxist and a first class progressive who hates America almost as much as he loves power. He introduced S. 679 on March 30th, 2011. He was joined by a gaggle of progressives from the left and the right. This is something I have been warning Americans about for a long time. If we are to survive as a nation, we must rid ourselves of ALL progressives or our nation is doomed and freedom will be swept into the dustbin of history. Schumer's esteemed list of constitutional traitors is as follows:
Be sure to get your improved boost of zinc and pregnenolone today with The Real Red Pill Plus now at 60% off!