Donna Anderson
Infowars.com
February 14, 2013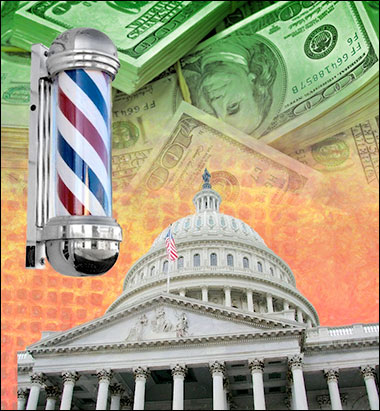 While millions of Americans are struggling to put a meal on the table, let alone come up with an extra 2-bits for a haircut, U.S. senators and their staff members have consistently been racking up annual deficits of $340,000 annually to maintain their well-groomed appearance. And who's picking up the tab? The American taxpayer, of course.
Since 1997, U.S. senators and their staff members have been lining up at The Senate Hair Care barbershop in the basement of the Russell Office Building where they receive $20 haircuts and various other salon services, all on the taxpayer's dime.
The shop has consistently run annual deficits of $340,000 or more, and in 2012 the deficit rose to more than $400,000. All told, taxpayers have spent almost $5.2 million dollars paying for haircuts, shaves, hairstyles, and haircare products so our senators and their staff members can look their very best while they tighten the noose on their constituents.
While it's true that stylists for superstars and fashionistas might charge hundreds of dollars for a cut-and-style, the average American can walk into any neighborhood barbershop or salon and and get a perfectly respectable haircut for $10-$12. That's 40-50 percent less than we're paying for our representatives to have their hair styled.
Even at the lower price, most Americans have to scrimp and save before they can visit a salon while senators merely have to put it on the taxpayers' tab. And at the same time they're getting their free haircuts they're getting ready to vote on $1.2 trillion in across-the-bard spending cuts that are aimed directly at the poor and elderly.
Paul Leonard, a former Democratic lieutenant governor who is an adjunct professor of political science at Wright State University, said: "I think it is the ultimate hypocrisy for any legislator in Congress who is arguing for cuts from the social side of the budget to not include their own budget. They need to lead by example and make some serious cuts."
The legislative-branch budget has grown 73 percent since 2000. The 2013 appropriations request is $4.5 billion, up 4.8 percent over 2012. Included in the sum is funding for the Senate Hair Care barbershop, congressional dining rooms, gymnasiums and many other conveniences the average American could never afford, yet we're footing the bill for our representatives under the theory that providing these services close at hand allows congressional members to save time and focus on their jobs.
"It smacks of elitism," said Mark Caleb Smith, director of the Center for Political Studies at Cedarville University. "While trimming the Senate salon will do little to balance the budget, allowing it to run such a large deficit indicates a lack of seriousness at best, and immorality at worst. It looks shocking when juxtaposed with the financial and fiscal difficulties our nation is now encountering."
The Infowars Life Lung Cleanse Plus is back in stock at 50% off with double Patriot Points and free shipping!