Paul Lewis
The Guardian
March 12, 2014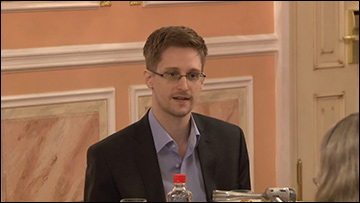 The whistleblower Edward Snowden accused the chair of the Senate Intelligence Committee of double standards on Tuesday, pointing out that her outrage at evidence her staff were spied on by the CIA was not matched by concern about widespread surveillance of ordinary citizens.
Snowden, the former contractor whose disclosures to journalists revealed widespread surveillance by the National Security Agency, was responding to an explosive statement by Senator Dianne Feinstein about the CIA's attempts to undermine a congressional investigation into interrogation and detention.
In a surprisingly combative statement on the Senate floor on Tuesday, Feinstein, who has been widely criticised by privacy experts for failing to hold the NSA to account, accused the CIA of conducting potentially unconstitutional and criminal searches on computers used by her staff.
The Emergency Election Sale is now live! Get 30% to 60% off our most popular products today!