Kurt Nimmo
Infowars.com
July 2, 2013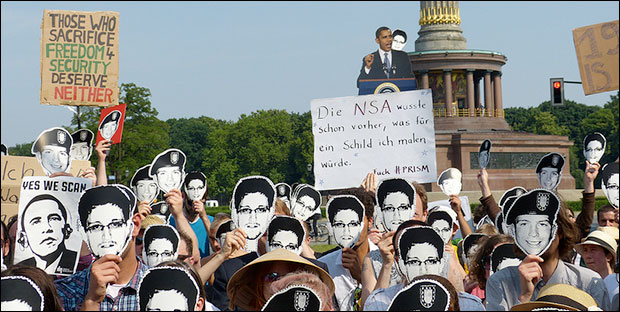 On the run whistleblower Edward Snowden fears he will face execution if his asylum requests are rejected and he is sent to the United States to face prosecution.
"It is unlikely that I would receive a fair trial of proper treatment prior to trial, and face the possibility of life in prison or even death," he told The Telegraph today.
Holland, Finland, Brazil, Poland and India have declined his requests for asylum. Ecuador, Austria, Norway, Switzerland, Germany and Spain have said they would consider his application for asylum only if made while in those countries.
Nicolás Maduro, the president of Venezuela, said during a trip to Russia that his country has not received an application for asylum from Snowden. While voicing support, Hugo Chávez's successor said he would not use his plane to ferry the whistleblower out of Russia.
"He did not kill anyone and he did not plant a bomb," Maduro told legislators and reporters at the Russian Parliament. "He only said a big truth to prevent wars." Maduro said Snowden deserves protection under international law.
Snowden is allegedly holed up at in the transit area of Moscow's Sheremetyevo airport. Russian president Vladimir Putin has said that the former Booz Allen Hamilton analyst would have to stop "harming US interests" if he wanted to stay in Russia.
"He abandoned his intention and his request to receive the chance of staying in Russia," Putin's spokesman, Dmitry Peskov, told reporters in Moscow. "Hypothetically, Snowden could have stayed but on one condition – that he gave up his intention to carry out, one way or another, anti-American activity inflicting harm on the United States."
Snowden told the British newspaper there is a concerted effort to intimidate those who would offer asylum to whistleblowers and make it virtually impossible for them to escape prosecution for espionage in the United States.
"Although I am convicted of nothing, (the United States) has unilaterally revoked my passport, leaving me a stateless person," he said. "Without any judicial order, the administration now seeks to stop me exercising a basic right. A right that belongs to everybody. The right to seek asylum."
"Their purpose is to frighten, not me, but those who would come after me."
In recent days, a number of people have said Snowden deserves to die for revealing the NSA's formerly secret Prism surveillance program.
"I think Snowden is a terrible threat, I think he's a terrible traitor, and you know what we used to do in the good old days when we were a strong country — you know what we used to do to traitors, right?" Donald Trump said on Fox News.
Former Congressman Ron Paul said last month that he fears the government will assassinate Snowden. "I'm worried about somebody in our government might kill him with a cruise missile or a drone missile," Paul told Fox. "I mean, we live in a bad time where American citizens don't even have rights and that they can be killed, but the gentleman is trying to tell the truth about what's going on."