Mikael Thalen
Infowars.com
April 5, 2013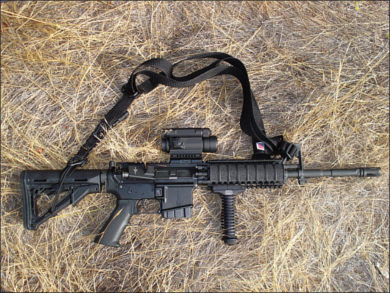 A St. Helens girls softball league fundraiser in Oregon made headlines last month after $1,600 was raised by raffling off an AR-15 rifle. Now given the large success and support, they are continuing the raffles amid a minority of protests.
"I would like to see the board step down. I think they've acted irresponsibly and they plan on selling more guns," said Betty Bundy, whose daughter plays for a St. Helens girls softball team.
Despite the dozen or so protestors, the fundraisers continue to grow as hundreds of people buy tickets and voice their support. Although one 8-year-old girl did quit the team over the raffle, one girl soon joined the team for the same reason.
"I've been overwhelmed by the response and I would like to thank everybody because there's been such massive support," said the St. Helens Girls Softball Association President Devin Degraffenreid.
Checks have even begun to come in from supporters who want to fund the league simply for sticking to their guns.
"Just to tweak everyone who thought it was a bad idea, enclosed is a donation of $200 for your work!" wrote an anonymous donor.
Last Saturday a second raffle was a huge success as the 500 available tickets sold out in less than 15 minutes. Now a third raffle planned expects to bring in even more support and cash for the girls league.
"We are not trying to do anything political here. We are trying to get equipment for our girls and we're trying to get our fields playable," said Board Secretary Traci Nelson.
Over 1,000 tickets are up for grabs for the third raffle which has already pre-sold well over 200 tickets. Plans for the third fundraiser are to not only raffle off another AR-15, but a high quality shotgun as well. The winner will choose which firearm he or she wants and second place will take the other.
Winners must be 18 years or older and will be subject to a $25 background check paid for by the league. The league plans to announce the raffle results and any new fundraisers on its Facebook Page.
Despite the media's attempt to demonize gun-ownership and create the illusion of an anti-gun society, the 2nd amendment culture appears to not only be alive and well, but growing.
By the way, people who know what's coming are taking advantage of our healthy & delicious storable food!