WASHINGTON, D.C. – Google, Facebook and Amazon are among the Internet giants in an alliance engineered by George Soros teaming up with PornHub to create a day of Internet havoc, billed as the "Battle for Net Neutrality," designed "to show the world the real impact of net neutrality by hitting Internet users where it hurts: Their porn consumption habit."
PornHub plans to load its Internet website today, Wednesday, July 1, with a slow-loading icon PornHub plans to irritate Internet users, demonstrating what the Soros alliance of Internet giants wants to represent as a slower, less user-friendly Internet that will be the future should the FCC repeal the Obama-era "Net Neutrality" rules.
Infowars.com has previously reported Google has joined George Soros' Open Society Foundation and the Ford Foundation in funding more than $72 million since 2006, lobbying hard to retain the Obama-era "Net Neutrality" rules in place that allow Internet giants such as Google, Facebook, and Twitter to continue censoring conservative and libertarian websites including Infowars.com.
The Daily Mail in London reported Wednesday that more than 170 Internet giants including Google, Facebook, Amazon, Netlix, and PornHub have organized an on-line protest today, advancing the argument that if the Obama-era "Net Neutrality" rules are revoked, the Internet Service Providers linking users to the Internet would be able to "control who wins or loses on the Internet."
As Infowars.com has repeatedly explained, "Net Neutrality" rules only impose fairness standards on the ISPs, like AT&T and Verizon – the Internet switches through which users connect to the Internet – while not applying to Google, Facebook, and Twitter – the giant Internet content providers – who remain free under "Net Neutrality" rules to censor conservative and libertarian websites like Infowars.com.
The PornHub website lists thousands of videos dealing with the brutal rape, violence, and torture of women, even including "snuff" themes.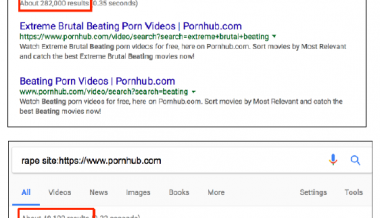 Infowars.com previously reported on July 4, the non-profit citizen group Free Our Internet (FOI) has launched a new campaign allowing individuals to post a comment on the FCC website combating Soros-funded efforts by big government, Silicon Valley monopolies and the tech-left to hijack the Internet by urging the FCC to keep in place the Obama-era "Net Neutrality" censorship rules.
The Reopen America Back to School Special is now live! Save up to 60% on our most popular items!